Ancel AD410 Customer Feedback
All Ancel AD410 Scanner feedback on this page are collected from Amazon customers,if you want to know more details please contact dealer.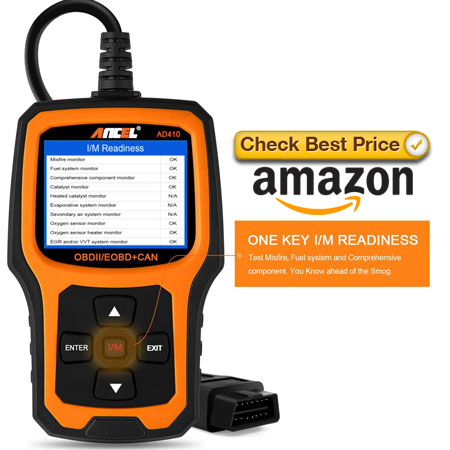 support 2007 Toyota Camry SE
2004 Acura work fine
it will work on your 2008 Ford F-250
works on a 2005 Toyota Tundra
Support 96-2000 GM Trunk
It should work on Ford 7.3 4×4 trunk 1996
work on a 2006 audi
work with a Mercedes Benz 2004 SL500
it support 2006 jeep liberty
work on a 2000 Lexus RX300
work on a 2010 Kia Soul
work on a 2000 mustang and and f-150
work for a 2001 ford f150
work on a 2003 toyota avalon
works with 2008vw rabbit and 2014 bmw 320
work with a 2003 nissan maxima gle 4dr sedan
works on my hybrid sonata 2011
it works on a 2002 Ford Ranger and a 2005 Honda CR-V
it work on a 2007 volvo v50
work on 05 toyota highlander.
work on a 2002 trailblazer and it did scan that easily
work on a 2016 vw jetta tdi (diesel)
it work on a 2013 Ford Fusion Hybrid
it work with chevy Tahoe LT 2011
work on a 2005-2011 Honda ridgeline
work on nissan patrol y61 2008 made in japan
I used this specific reader for my 2004 Honda Accord and it also works (fits) my new Lexus.
work on 2002 Honda Accord
this work on my 2009 Scion tC
It's a nice tool used it on a 2001 Nissan because my engine light was on
it use with toyato prius model 2004
this work on a 2001 Mazda Tribute
this work for a e46 BMW
this work good for Ford f150
this work om my 2010 f250 diesel
I have a 2008 Mitsubishi evolution. It works fine. I'm sure it will work on it.
this work on a 2013 Ford Escape
it work on 2015 Nissan Sentra
it work on a 2002 Mercedes
It works on my 2006 F350 6.0 diesel and my 2007 explorer.
….keep updating
More feebacks check it on Amazon Ancel AD410 Dealer