ANCEL AD530 Vehicle OBD2 Scanner Car Code Reader
Ancel AD530 Description:
ANCEL AD530 OBD2 vehicle scanner is designed for both professional mechanics and home-use customers. It supports full OBD modes and it has a special battery tester function that allows you to monitor the real-time battery status. It supports lifetime free updates, and in fact, our technical team is constantly updating its database and software. You don't have to worry about its fluency, we use a new generation of 32 MB flash memory chips, equipped with our unique "Help" button to help you understand the complex professional vocabulary to ensure a pleasant user experience.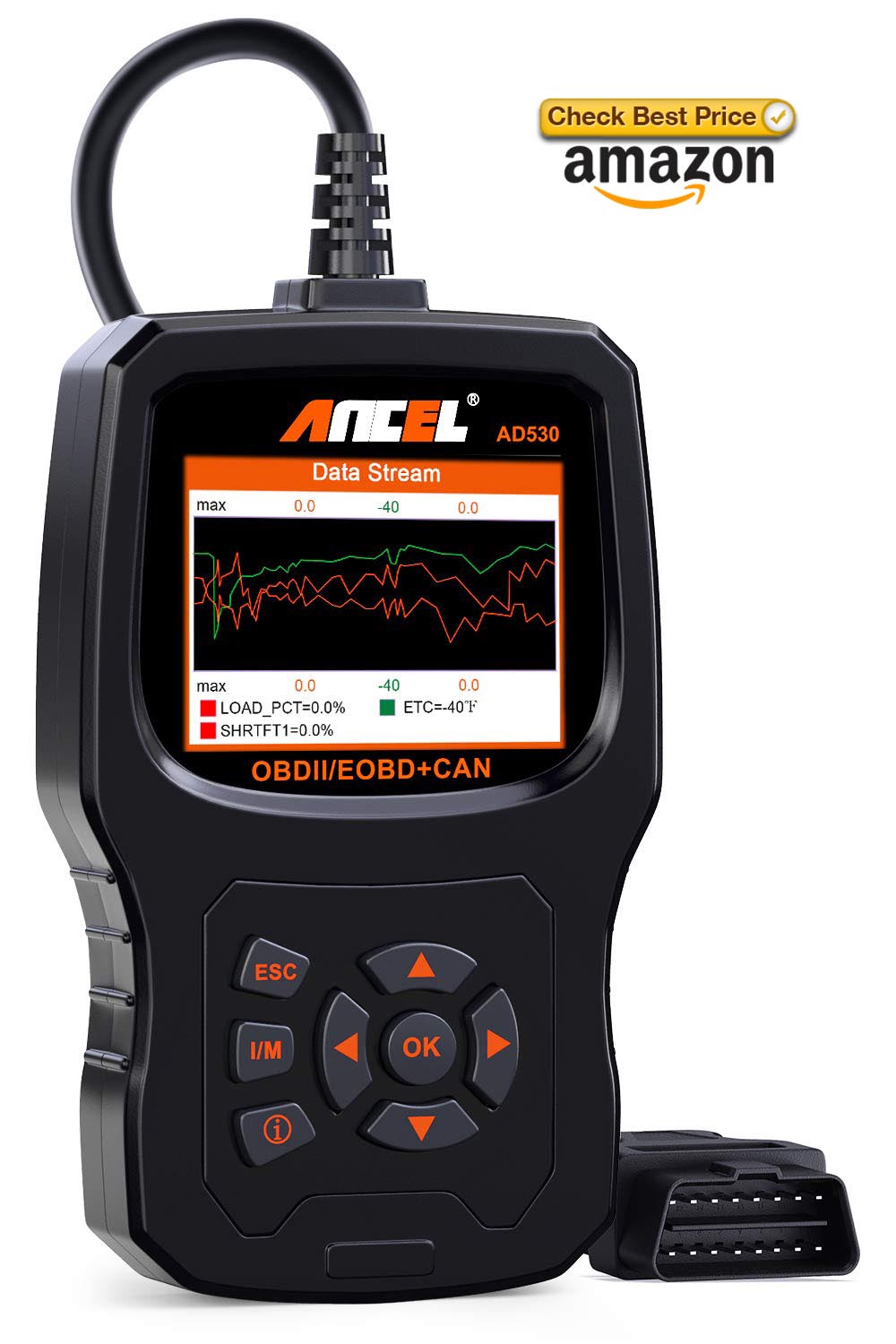 Ancel AD530 Features:
1.Help function("i" button)
2.The newest fault code database
3.Print DTCs report via PC
4.Feedback Function
5.Lifetime free update
6.Displays On-board monitor test results
7.On-Screen live data graphing, Built-in code library
8.Full OBD service modes supported
9.Support multi-languages,16 languages.
10.Equipped with a 2.8-inch TFT true color screen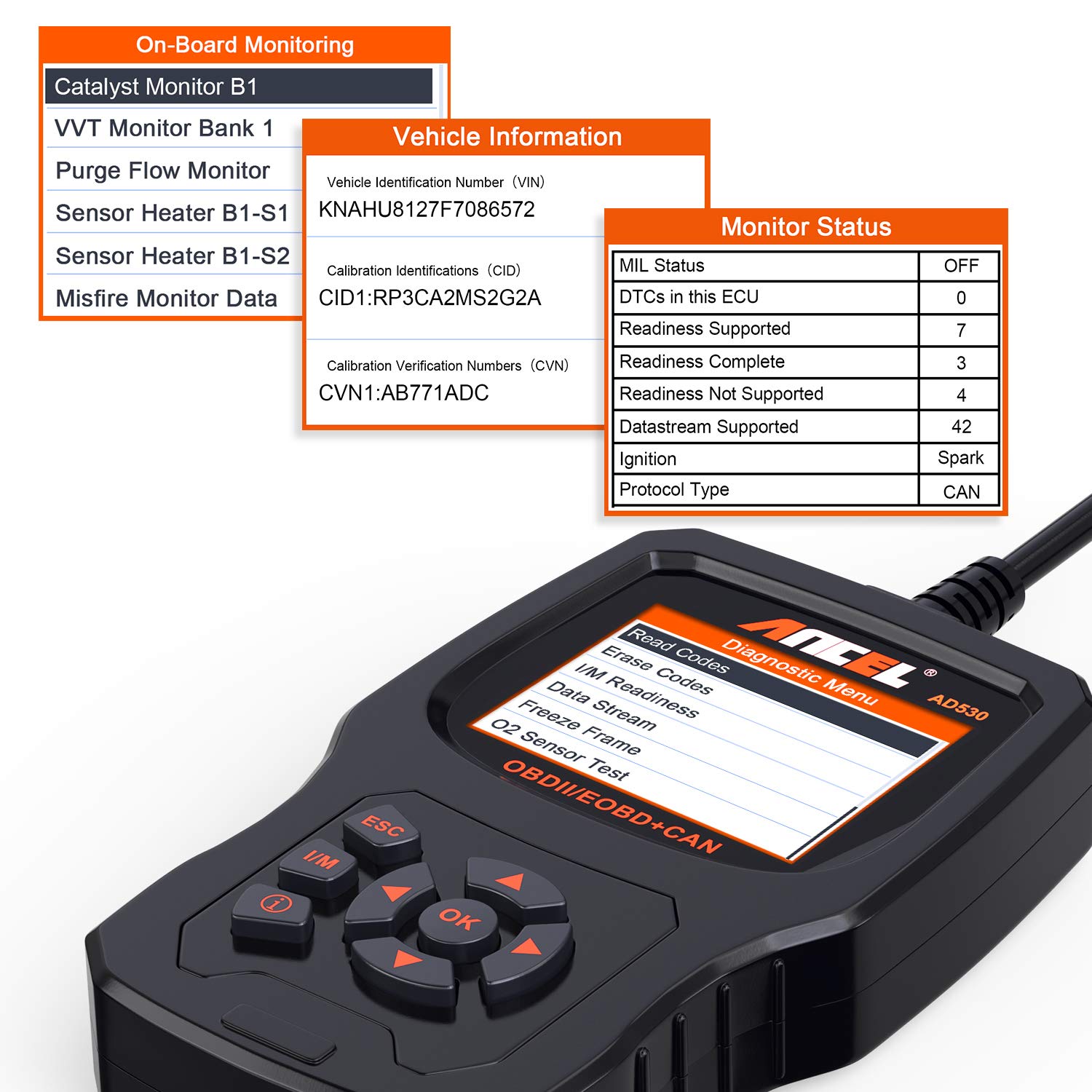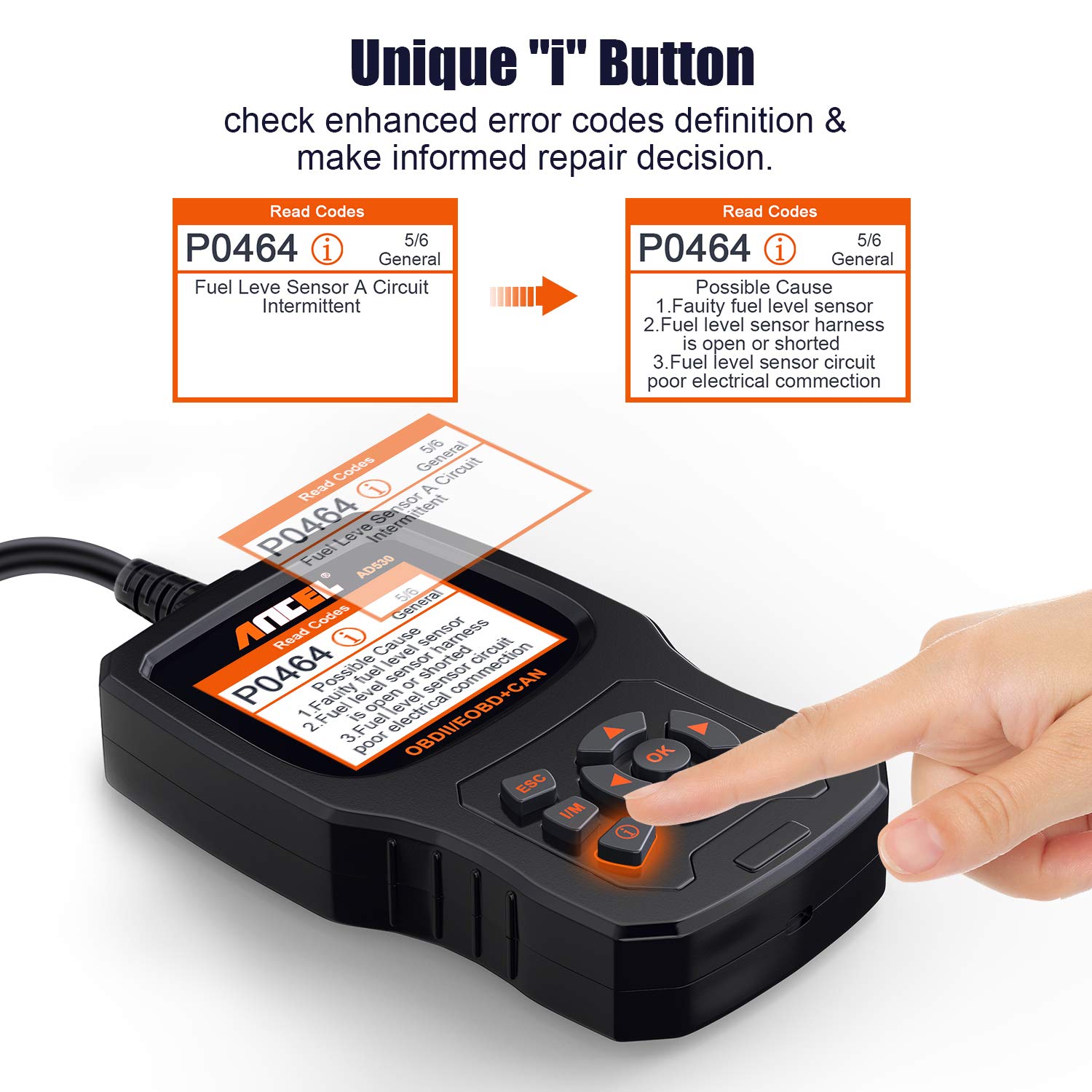 Ancel AD530 Functions List:
1.Reads and displays DTCS(Diagnostic Trouble Code); Erases DTCS
2.Reads live data stream
3.Views freeze frame data
4.O2 sensor test
5.I/M monitor readiness test
6.Evap system test
7.Retrieves vehicle information(VIN, CIN, and CVN)
8.Reads, records & playbacks DTCs
9.BAT test (Real Time Battery Voltage)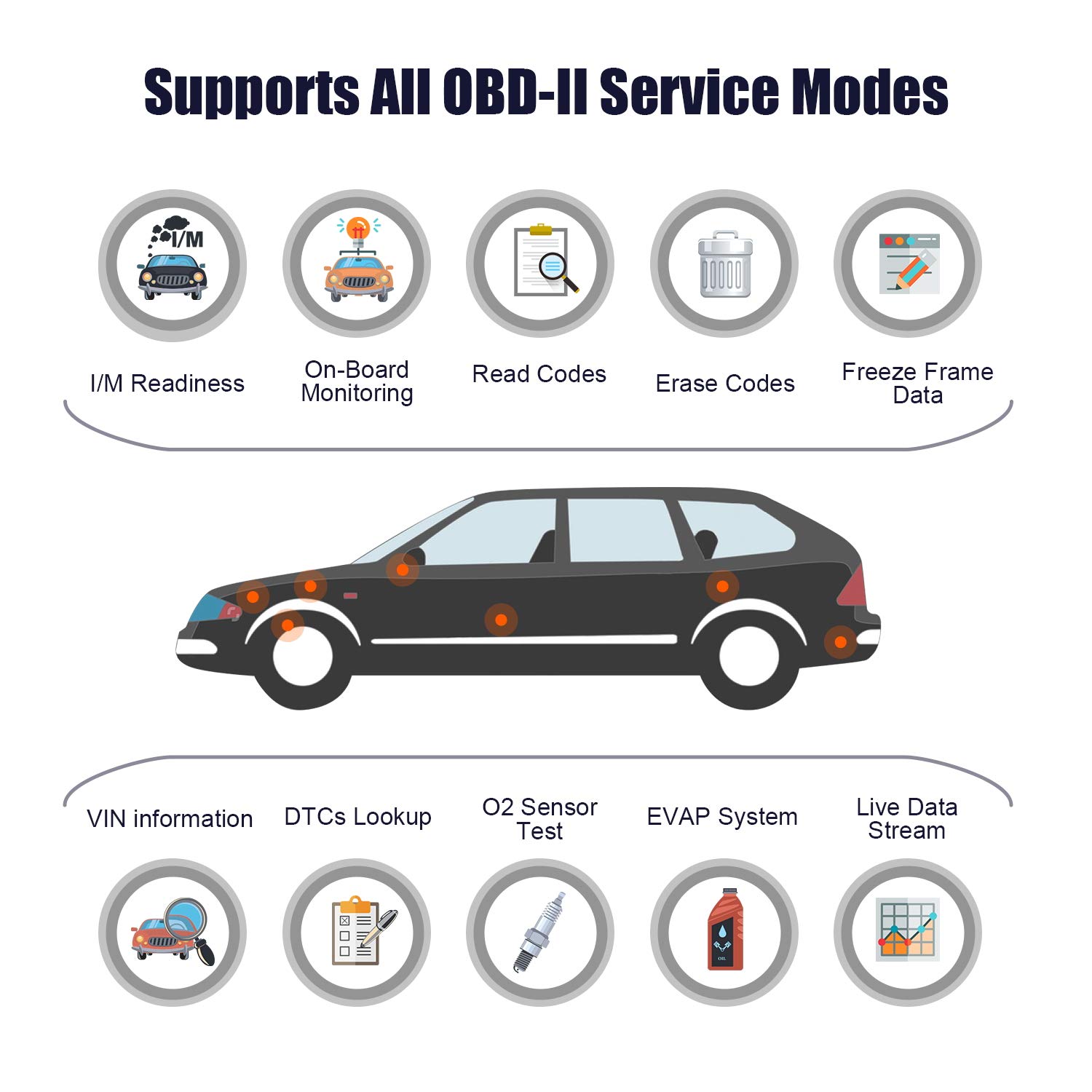 Ancel AD530 Support Car List:
Works on most vehicles sold in the USA with the model year of 1996 or newer, 2000 EU-Based and 2005 Asian-Based cars or newer.
1.America Car List:
Standard obd2 protocols, and release from 1996 years to now
For Chrysler, Ford, and GM
2.European Car List:
Standard obd2 protocols, and release from 2000 years to now
Fit for Alfa Romeo, SAAB, Acura, Opel, Audi, Seat, Peugeot, Renault, Bentley, Skoda, Daewoo, Benz, Daihatsu, Land Rover, BMW, Vauxhall, Citroen, Volvo, Fiat, VW, Ford, Jaguar etc
3.Asia Car List:
Standard obd2 protocols and release from 2005 years to now
Fit for KIA, Isuzu, Honda, Mitsubishi, Hyundai, Dacia, Lexus, Mazda, Nissan, Subaru , Suzuki, Toyota
NOTE: Even though it compatible with most cars, but different regions support the vehicle OBD2 protocol at different times, or some car is special design, so it may not compatible with some cars which do not support OBD2 protocol. Especially the Japanese and Korean car brand.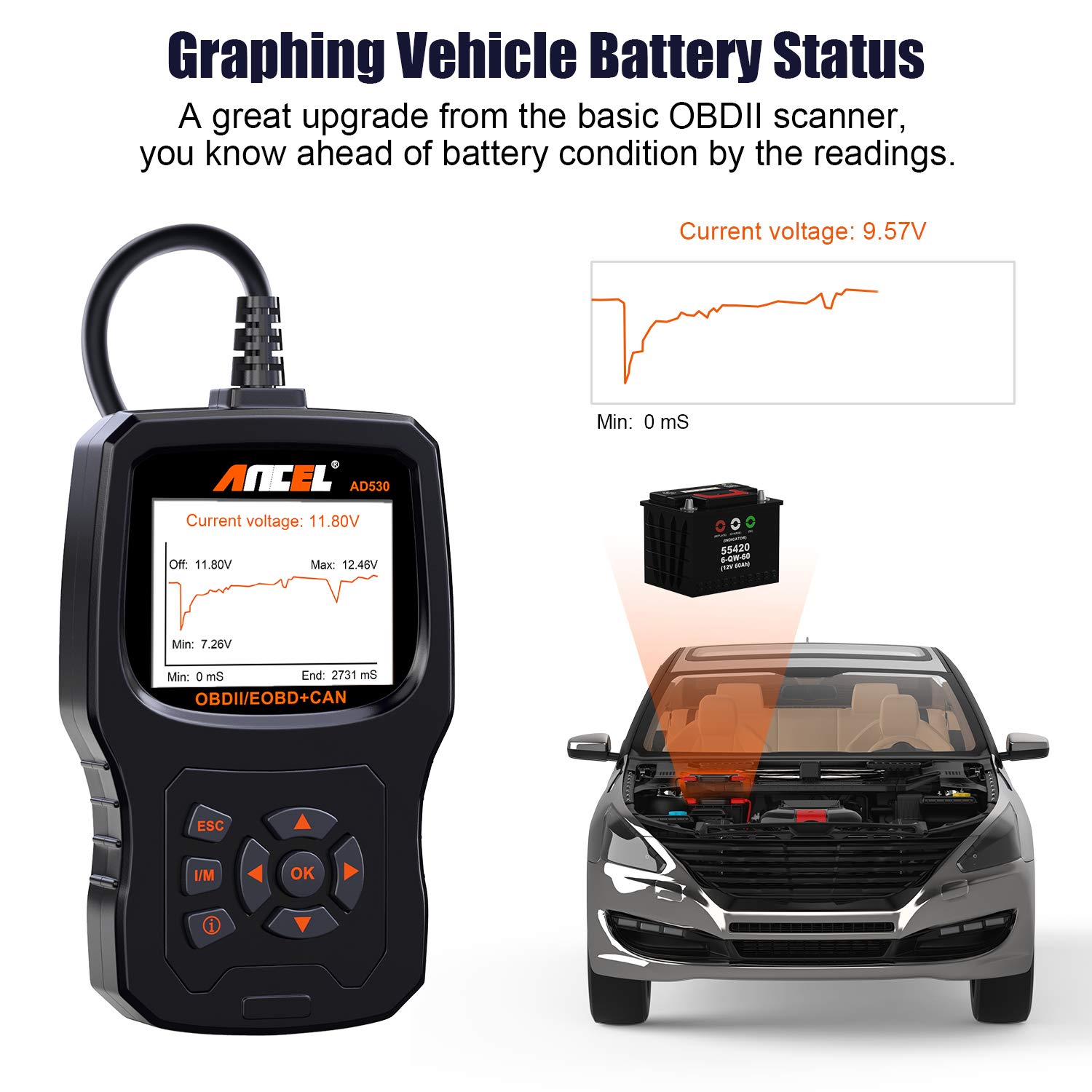 Ancel AD530 Support Car Protocols
ISO9141, KWP2000, J1850 PWM, J1850 VPW, and CAN (Controller Area Network).
Ancel AD530 FAQs:
Question 1:
Will this work on my chevy s10 and my toyota corolla?
Answer 1:
As long as both vehicles are 1996 and newer. They have to be equipped with the OBDII connector under the dash below the steering wheel.
Question 2:
It will work on a ford fusion 2006? Meausee the transmition?
Answer 2:
Hi, AD530 OBD2 scanner works on a ford fusion 2006. But it doesn't support do transmission, it just can do engine system and support all obd modes, can do battery tester function.
Question 3:
Does this work for 2010 Mazda CX-7?
Answer 3:
Yes, AD530 car code reader works for 2010 Mazda CX-7
Ancel AD530 Reviews:
Review 1:Youtube – Vegas Romaniac
There are more expensive tools out there , but this one can do all the things i wanted and it is really affordable , easy to clear codes, and read codes, gives you more info on error codes using the big (I) button , it can read battery charge status, comes in many languages and great manufacturer support for updates !
Review 2:Bailey Johnson
An OBD2 scanner diagnostic tool is a great addition for every car passionate, amateur or professional mechanic. This tools will allow you to check your car's performance in real-time. ANCEL scan tool was designed by engineers to read and interpret all the Check Engine light warnings on cars, minivans, light trucks, and SUVs produced since 1996. It is able to communicate with all OBD2 protocols and provide valuable live data. The tool is easy to install and use. All you need to do is to plug the diagnostic tool in the car's DLC port. This scan tool can be used with great reliability on most US, European and Japanese models from 1996 to current. It is also able to read and display the live engine data and make graphs out of it, for easier understanding, diagnose trouble codes, reveal pending trouble codes, and make a snapshot of the vehicle's data right at the moment the fault appeared.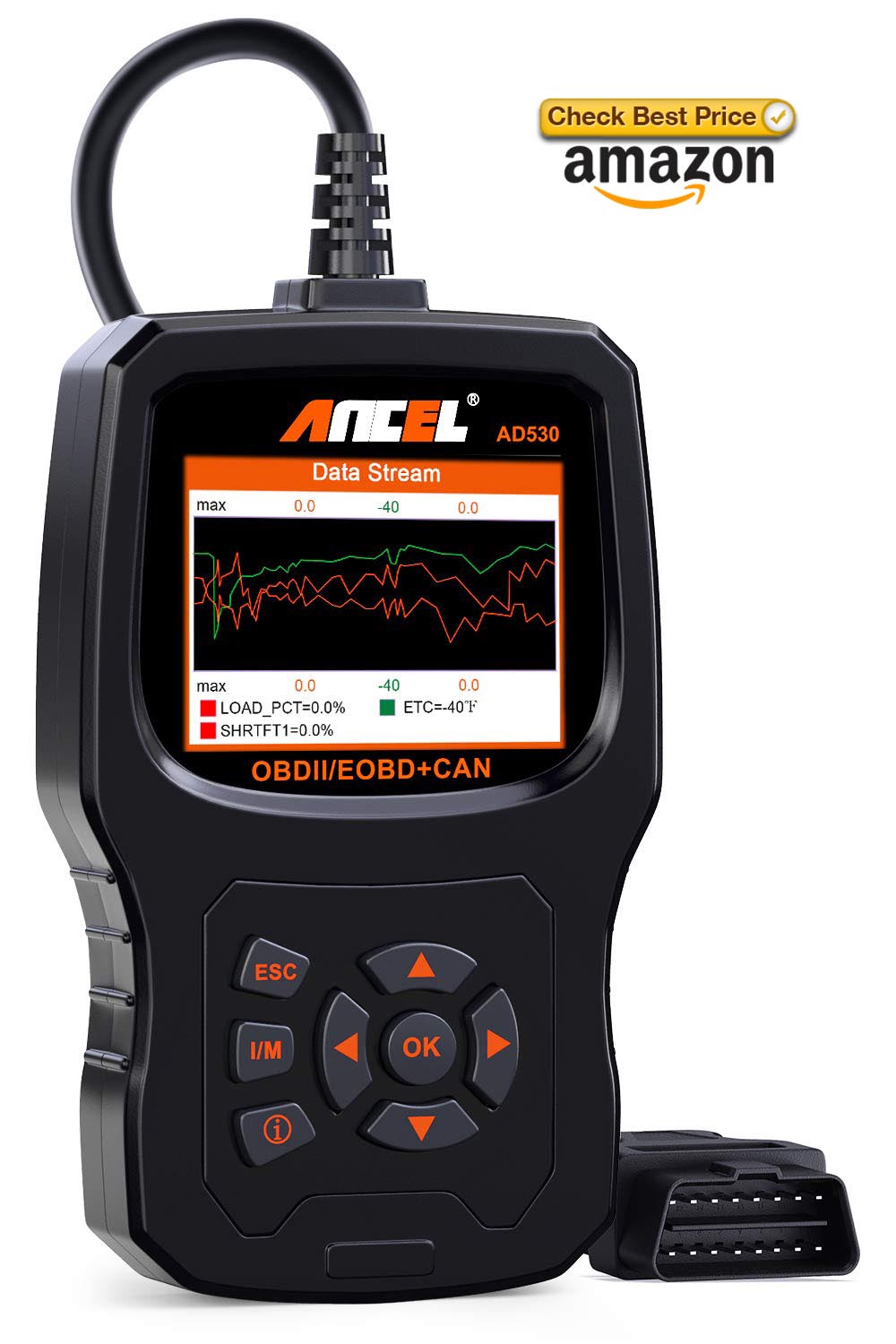 Ancel AD530 Package List:
1 x AD530 Scan Tool
1 x User's Manual
1 x USB Cable
For more information,please check Ancel AD530 on our Amazon Shop.