Ancel BM700 All System Diagnostic Tool for BMW Diagnostics
What is Ancel BM700 Diagnostic Tool?
ANCEL BM700 is an upgraded version of the ANCEL BM500 OBD II scanner. It works on most OBD2 vehicles sold in the US after 1996 and all BMW Group vehicles(BMW, MINI, Rolls-Royce). For BMW Group vehicles, it has the capability to read and clear fault codes on all systems, read data stream and VIN information. Also, BM700 scan tool has many advanced functions: CBS reset/correct, Battery registration, EPB reset, SAS learning, DPF regeneration, EGS clear adaption, TPS adjustment, ECU reset (ACMS/RDC reset), DME/DDE engine special functions, Fuel Pump reset and so on. We also provide lifetime free update to fix the latest bugs or add new parameters, and make sure it always has the latest fault code database.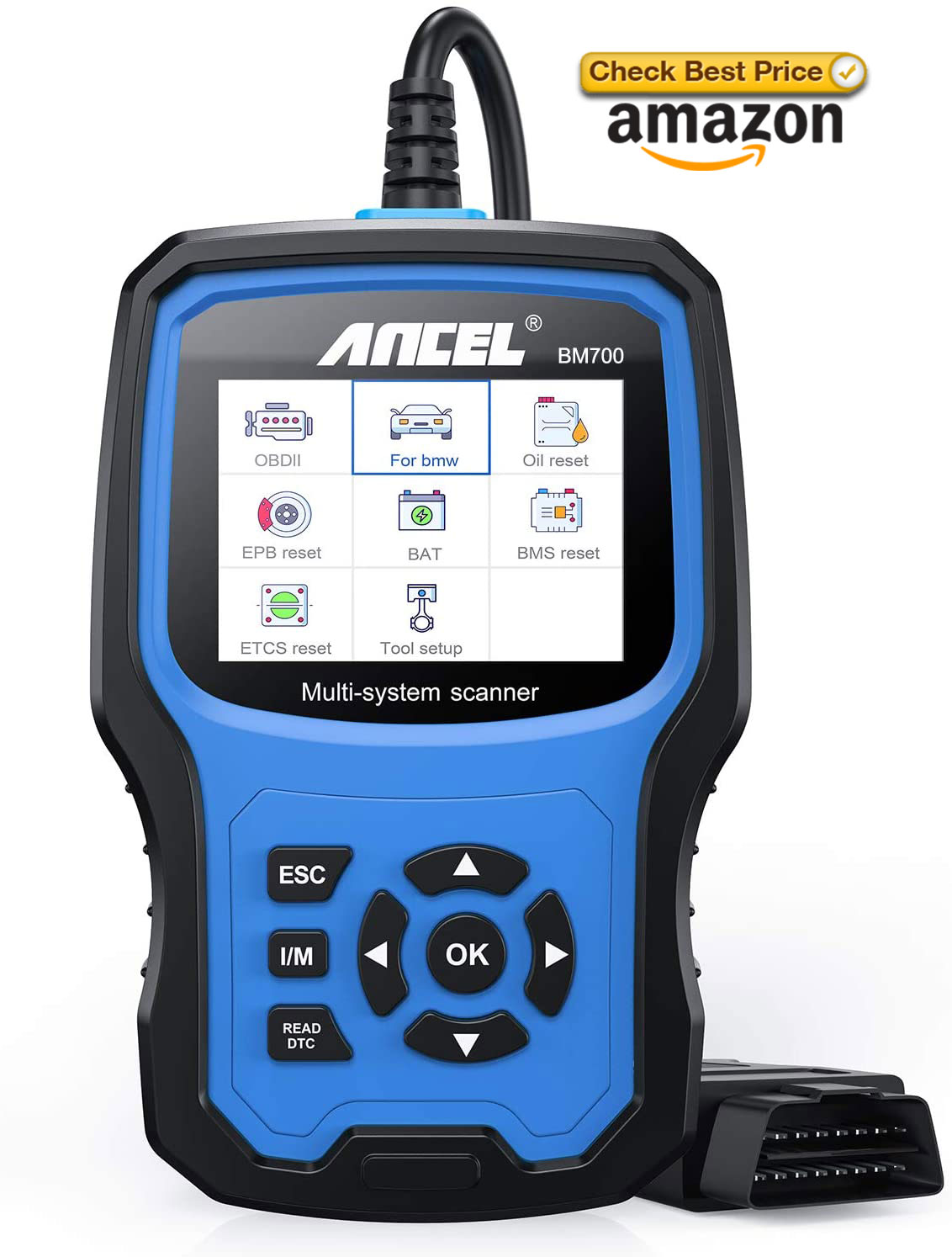 Ancel BM700 Features:
1.Support all system diagnostics
2.Support special functions
3.Support all BMW group
4.One click diagnostics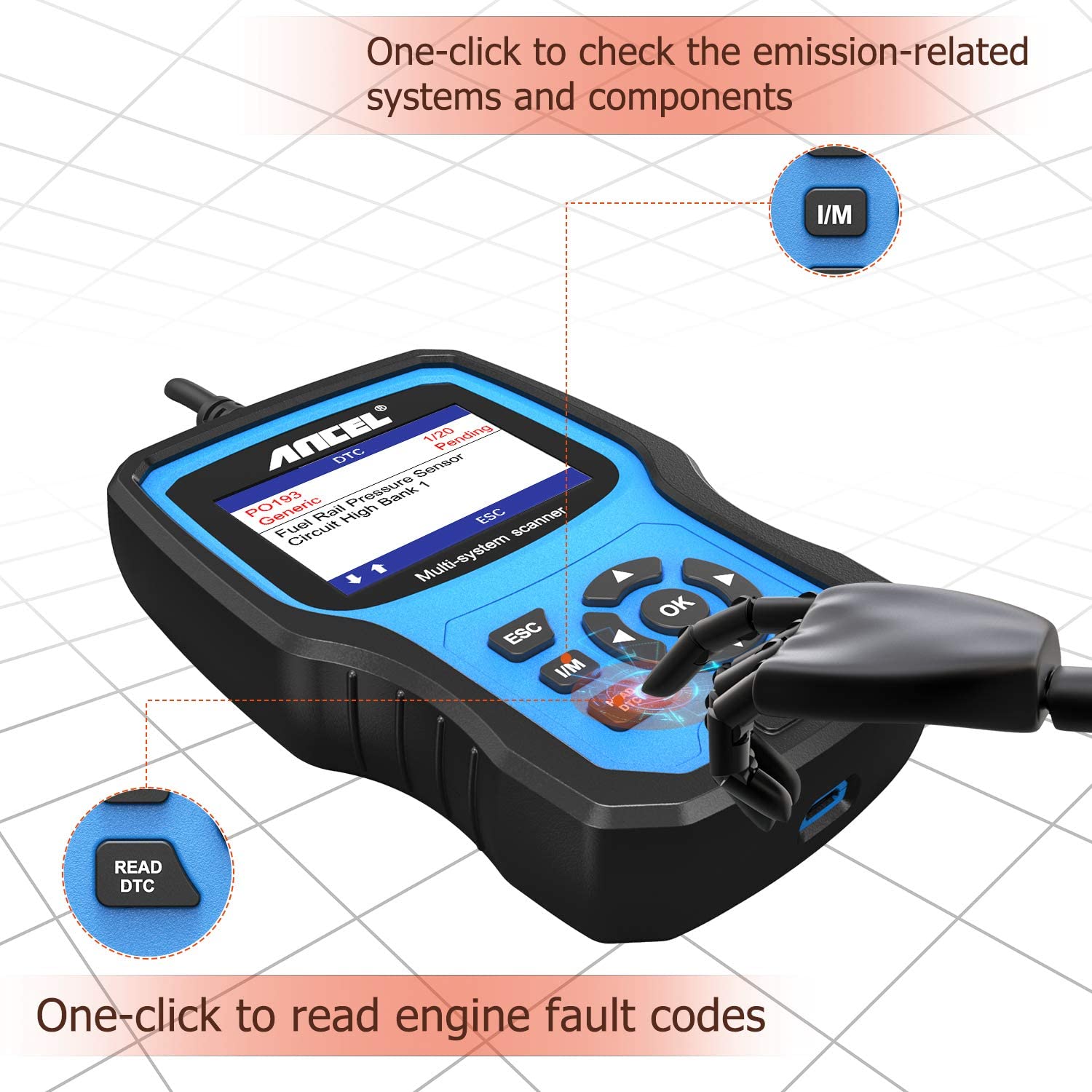 Ancel BM700 Function List:
Basic Functions:
All-system Diagnosis for BMW Group vehicles
Engine System Diagnosis
SRS(Airbag) Diagnosis
TPMS/ABS/SAS Diagnosis
Transmission/ESP System Diagnosis
Battery System Diagnosis & Battery Test
Immobilizer System Diagnosis
Reads Data Stream & VIN Information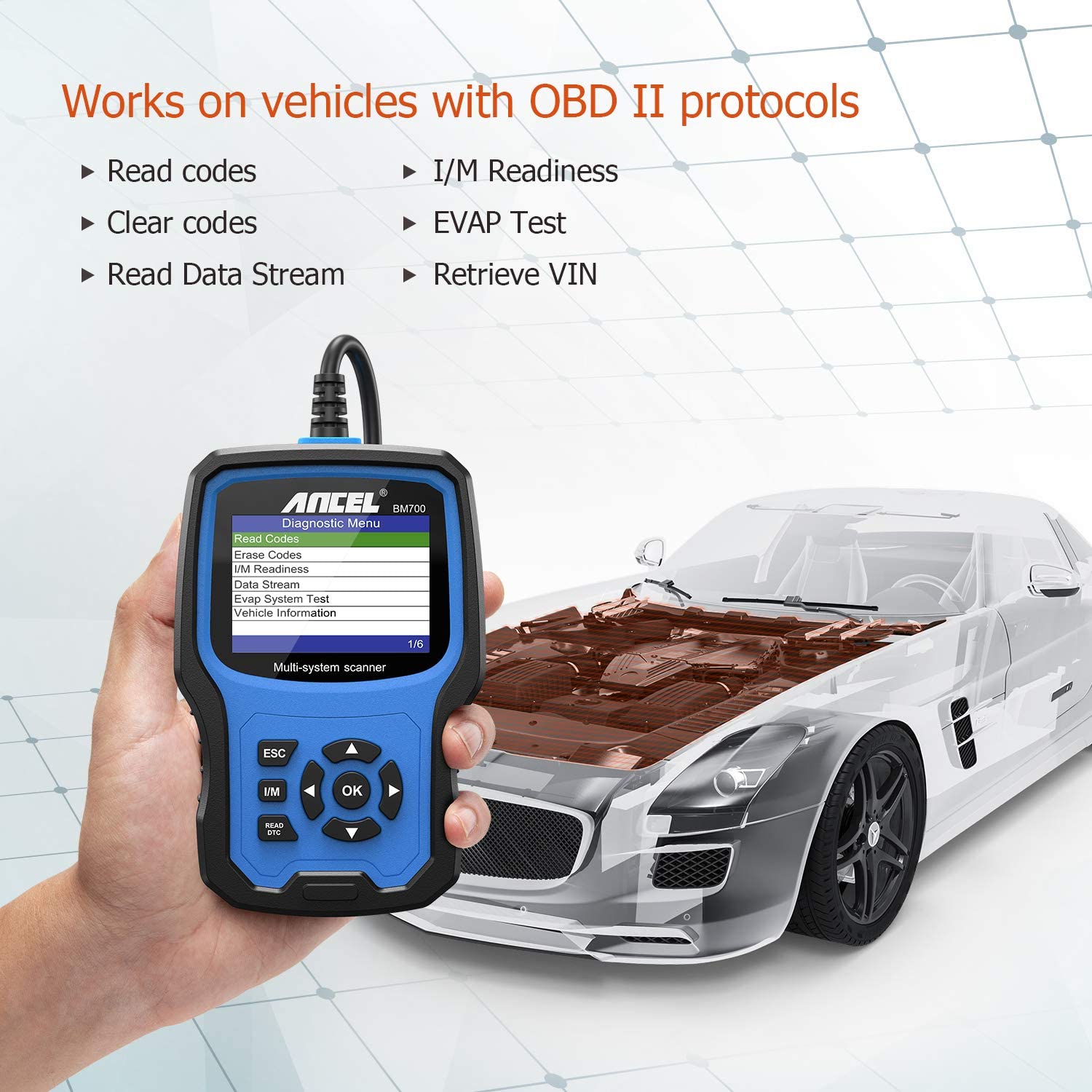 Special Functions:
Condition Based Service(CBS) Reset/Correct
Electrical Park Brake (EPB) Reset
Steering Angle Sensor(SAS) Learning
Diesel Particulate Filter(DPF) Regeneration
Electronic Gearbox System(EGS) Clear Adaption
Throttle Position Sensor(TPS) Adjustment
Battery Registration
Fuel Pump Reset (F chassis only)
Injector Coding(IQA)
Idle Speed Adjustment etc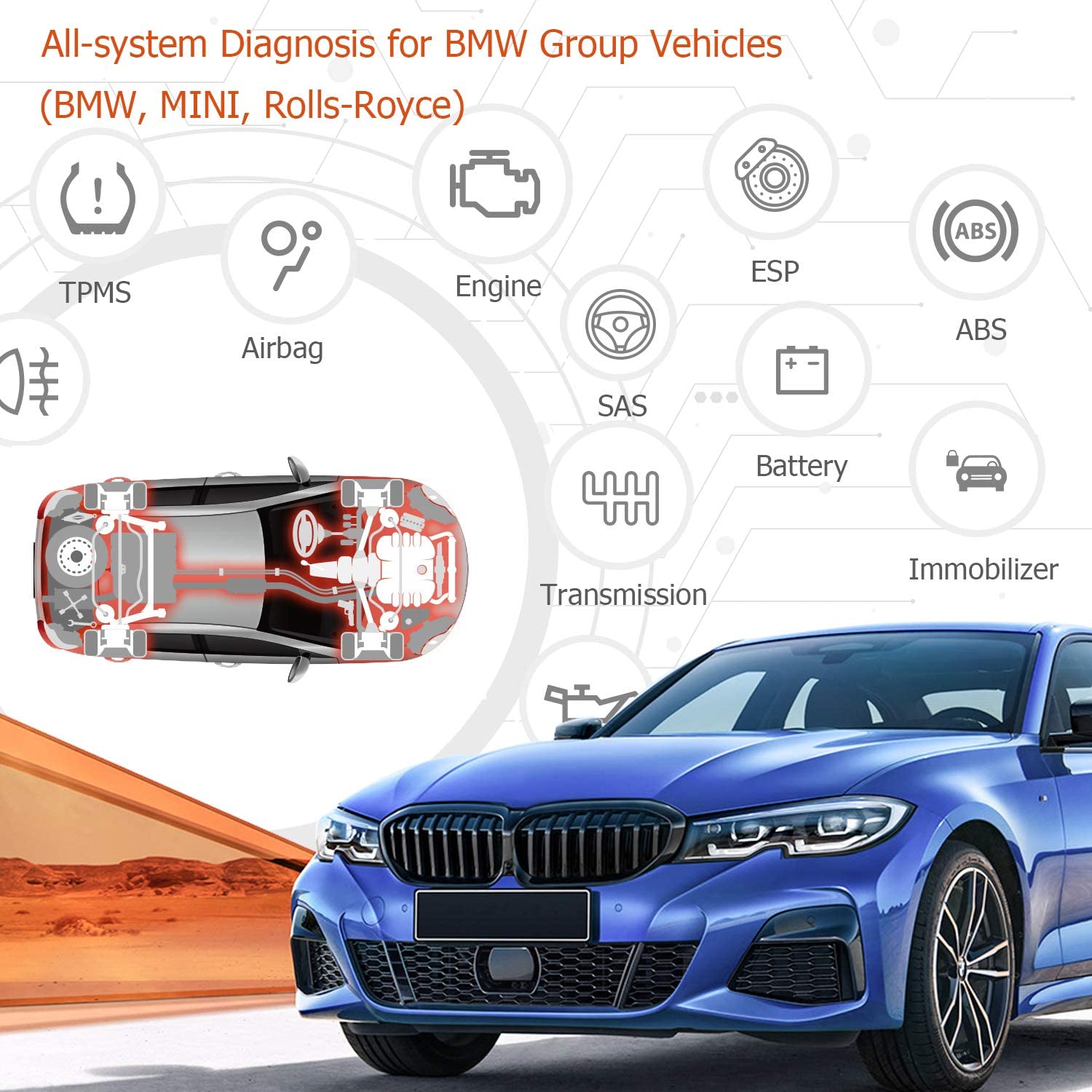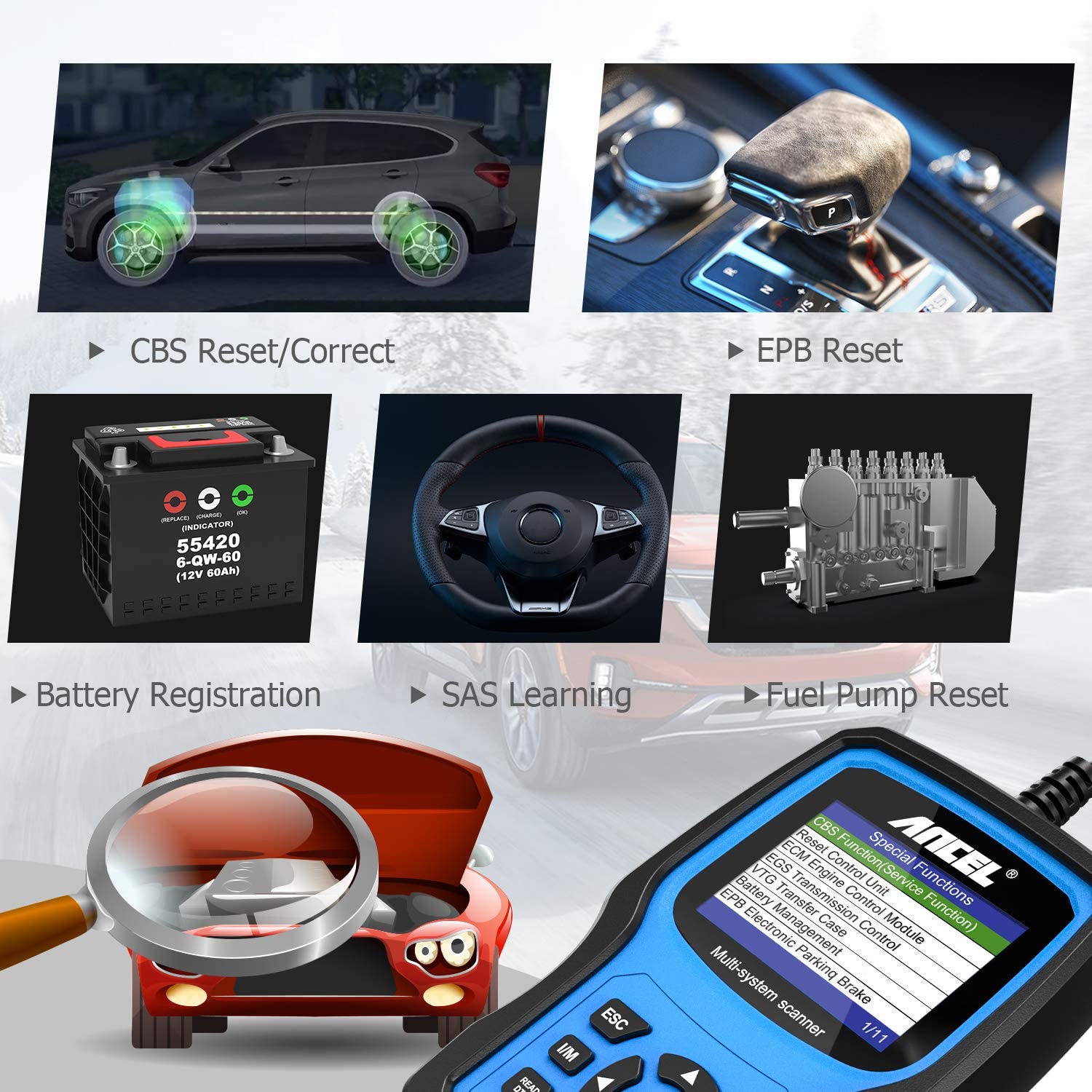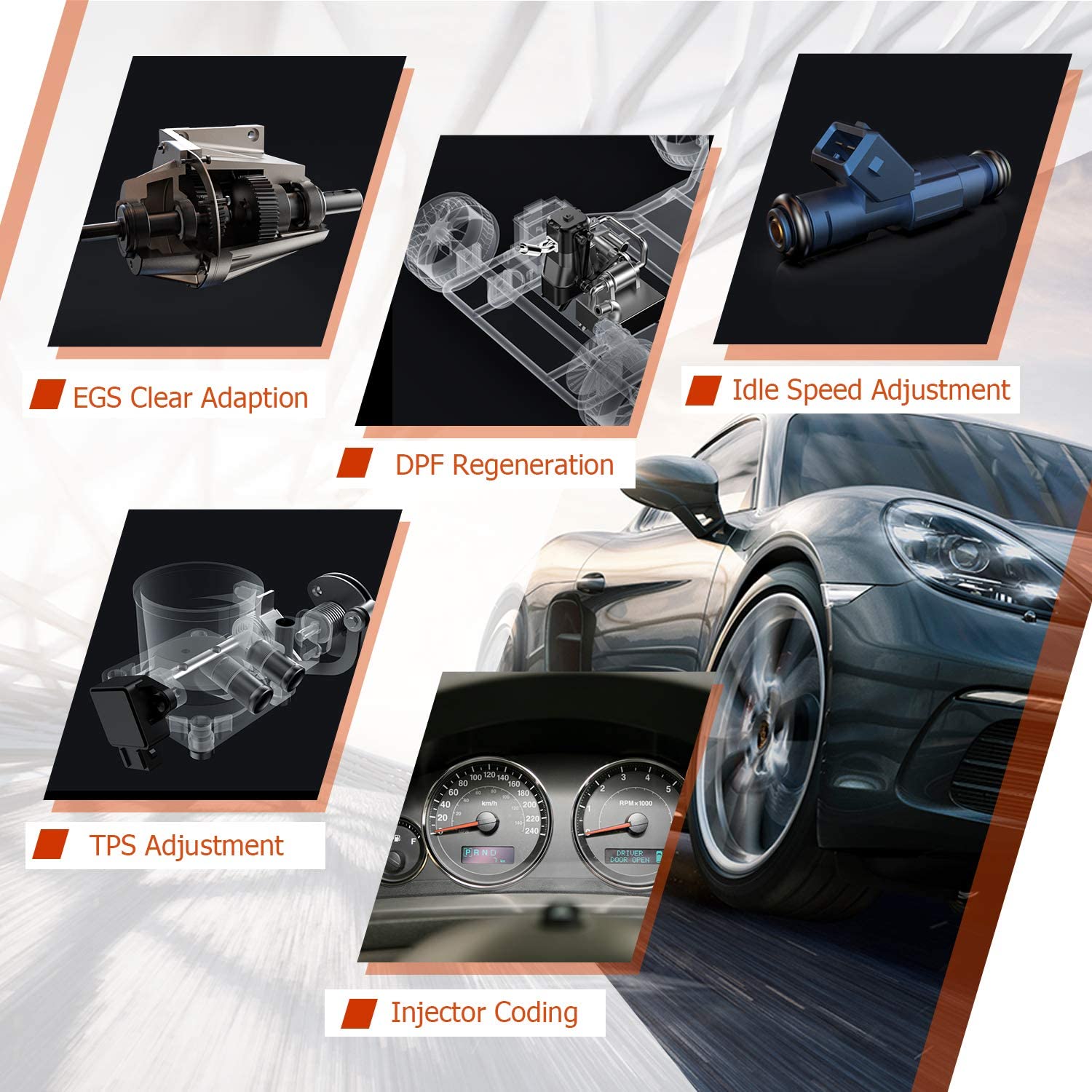 Ancel BM700 BMW Models Coverage:
BMW 1 Series: E81/E82/E87/E88/F20/F21/F52
BMW 2 Series: F22/F23/F45/F46/F87
BMW 3 Series: E30/E36/E46/E90/E91/E92/E93/F30/F31/F34/F35/F80/G20
BMW 4 Series: F32/F33/F36/F82/F83
BMW 5 Series: E28/E34/E39/E60/E61/F07/F10/F11/F18/F90/G30/G31/G38
BMW 6 Series: E24/E63/E64/F06/F12/F13/G32
BMW 7 Series: E23/E32/E38/E65/E66/E67/E68/F01/F02/F03/F04/G11/G12
BMW 8 Series: E31/G14/G15/G16
BMW X Series: X1 E84 F48 F49/ X2 F39/ X3 E83 F25 G01/ X4 F26 G02/ X5 E53 E70 F15 F85 G05/ X6 E71 E72 F16 F86/ X7 G07
BMW Z Series: Z1 E30/ Z3 E36/ Z4 E85 E86/ Z4 E89/ Z8 E52
BMW I Series: I3 I01/ I8 I12
BMW MINI: R50/R52/R53/R55/R56/R57/R58/R59/R60/R61/F54/F55/F56/F60
Rolls-Royce Series: RR1/RR2/RR3/RR4/RR5
Note:Ancel BM700 works on all BMW Group vehicles. However, if your vehicle uses 20 pin OBD DLC(normally on cars before 1998), please buy an obd2 to 20 Pin diagnostic adapter connector to diagnose.
Ancel BM700 FAQs:
Q1: The description says that it can support all BMW Group vehicles. Why can't my car do all the functions mentioned?
A1: BM700 does support the OBD 6 modes of all BMW Group vehicles as well as full system diagnostics (depending on the actual number of systems in the vehicle). But the advanced functions might vary due to the different system configurations of the vehicles.
Q2: There is more than one car in my house. I have a BMW and a Mercedes. Is it suitable for me to buy this product?
A2: This product can do OBD2 6 modes on Mercedes-Benz. And it is a very powerful tool for your BMW, so if you need to maintain your BMW, and want to do some basic test of the Mercedes, it could be very helpful.
Q3: What is the difference between BM500 and BM700?
A3: Both BM500 and BM700 are specialized in BMW vehicles, but BM700 is a professional upgraded version of BM500. these 2 scanners can do all-system diagnosis of BMW cars, but BM700 has stronger compatibility (BM500 cannot diagnose 20PIN old cars even with adapters) and more advanced functions(EPB, EGS, etc).
Q4: What advanced functions does BM700 have for a Rolls-Royce?
A4: BM700 can diagnose all systems on RR1/RR2/RR3/RR4/RR5 series, and support CBS reset only.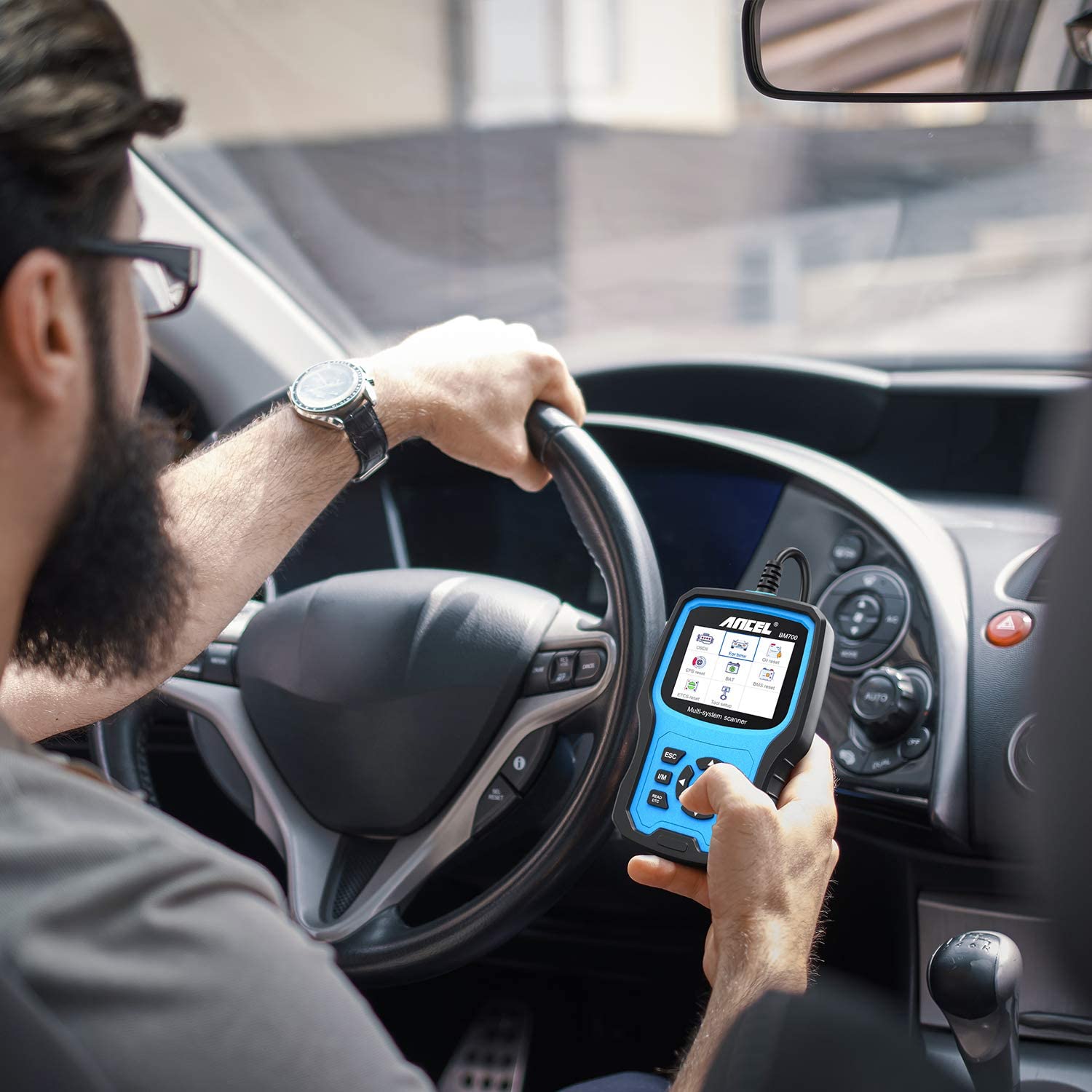 If you want more information please check on our Amazon Shop.