Ancel HD510 Heavy Duty OBD2 Code Reader
Ancel HD510 Code Reader Descriptions:
ANCEL HD510 is a professional Automotive Diagnostic Scanner for both cars and trucks. For cars and light trucks, it supports all obd2 protocols (J1850 PWM, J1850 VPW, ISO9141, KWP2000 and CAN ), helps to read and erase fault codes, graph live data display, retrieve vehicle information, EVAP Test, O2 Sensor Test and so much more; For Trucks, it supports standard truck protocols ( J1578, J1939 and J1708), easily to read codes for check engine light, oil light, transmission, brake etc and shows live data.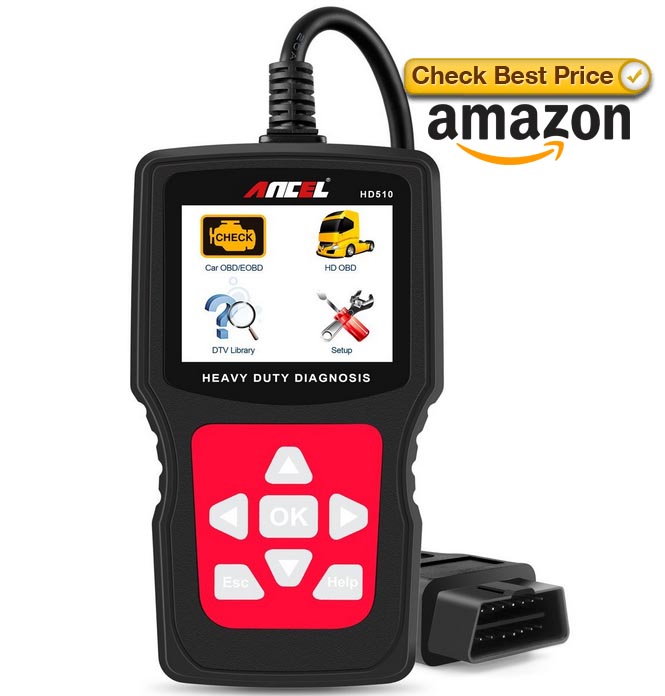 Ancel HD510 Support Truck Models:
Heavy duty trucks in compliance with standard protocols ( J1578, J1939 and J1708)
for Cummings, for Detroit, for Caterpillar, for Freightliner, for International, for Kenworth, for John Deere, for Peterbilt, for Sterling, for Mack, for Mecedes Benz, for VOLVO and more diesel trucks;
American Car from 1996 up to now
European Car from 2005 up to now
Asian Car from 2008 up to now
Ancel HD510 Support Truck Systems:
engine, transmission, instrument panel, drivetrain, braking system, suspension, ABS, ESP, EPS, fuel system and etc
Ancel HD510 Support Languages:
English, French and Spanish
Ancel HD510 Function List:
Read & Clear DTCs
Reset Check Engine Light
Freeze frame data
Minitor and I/M readiness status
Read VIN,CIN and CVN
Uniquely featured with battery power monitor function
Troubleshooting tips guide technicians to the root of problems faster, saving diagnosis and repair time
Easily determine the cause of the Check Engine Light(MIL) and turn off Check Engine Light (MIL)
Read, store and playback live O2 sensor test data
Read PCM live data stream, with graphic data Display
Enhanced OBDII Mode 6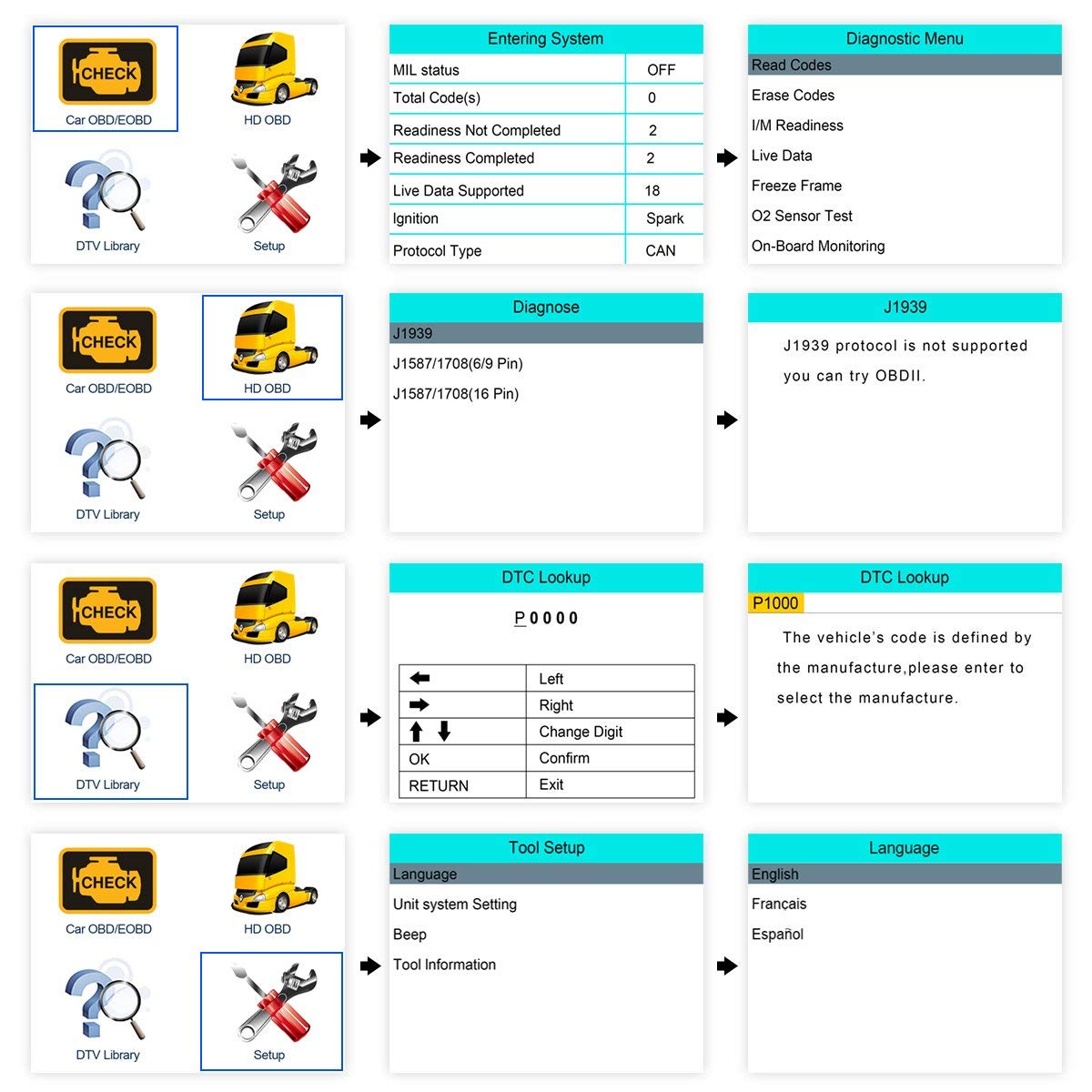 Ancel HD510 FAQs:
Q1:My RV is built on Freightliner M2cab/chassis made 12/2013; RV made 4/2014 with a Cummins 9 liter, 350hp diesel. OBD9pin port. Will this work for me?
A1:My husband says yes because it comes with 6, 9, and 16 prong ports. You can unscrew the ICM harness to check the ICM with this machine. There is a plug port by the fuse panel under the dash to check the whole system. Body doesn't matter, chassis and power plant is what you need to worry about because everything goes through ICM.
Q2:Will this scanner do a regen on a Ford F550 6.7L, DPF system?
A2:Hi, sorry, we do not recommend this do a regen on a Ford F550 6.7L, DPF system.
Q3:Will.this work on a dodge ram 2500 with 24 valve diesel engine?
A3:Hi, it will work only if your vehicle have an OBD II protocol system.
Q4:Will this work on a 2009 Pierce Fire truck?
A4:Hi Laurence, I use this on a 2004 International. I went by the OBD2 (cars) and the HOBD (truck) protocol which I think is standard for all North American trucks. They claim to support International, Freightliner, Kenworth and Volvo chassis, not sure what Pierce uses.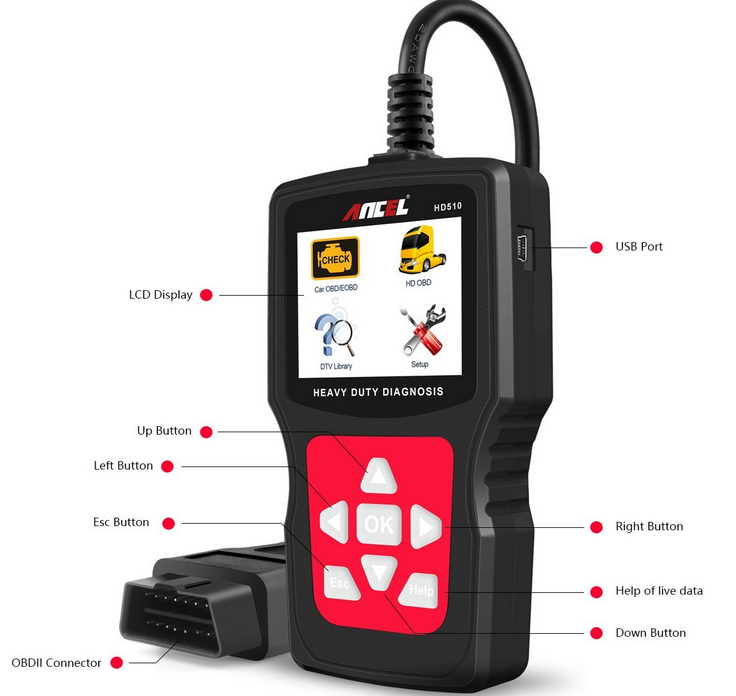 Ancel HD510 Reviews:
This is a must have tool for every household that owns a vehicle. Many auto shops and dealers want to charge you $50 if not more to hook up to their machine, so if you consider that you can make this pay for itself after a few uses. Not only will it pay for itself after a few uses but you can do it in the comfort of your own garage or driveway. This also gives you the ability to clear errors, like the engine light or oil light. This comes with a nice case to keep everything in, it includes a manual, 2 different car/truck plugs, and a USB to hook up to your computer. This is very user friendly and easy to operate.
Ancel HD510 Package List:
1 x HD510 scanner
1 x 6PIN connector
1 x 9PIN connector
1 x user's manual
1 x Nylon Carry Bag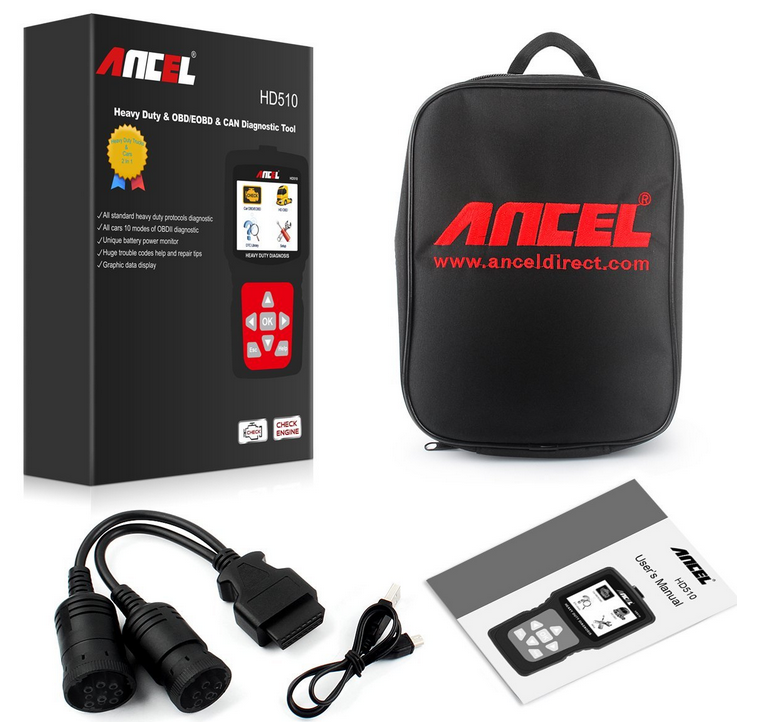 If you want more details about Ancel HD510,please check it and ask our service on Ancel Amazon Shop