Ancel VD500 OBD2 Diagnostic Scanner for VW Support Special Functions
ANCEL VD500 OBD II Diagnostic Scanner for Volkswagen VW Audi Skoda Seat Diagnosis Check Engine Light EPB ABS SRS Code Reader Oil Throttle Position Adaption Brake Pad Reset Tool.
Ancel VD500 OBD2 scanner is specially designed for diagnosing most 12V 16-Pin Volkswagen/Audi/Skoda/SEAT V/A Series vehicles, but it also has the ability to work on 12V cars and light trucks (non-electric) manufactured in 1996 or later that are OBD II-compliant with 16-Pin OBD II protocols (J1850 VPM, J1850PWM, ISO9141, KWP 2000 and CAN).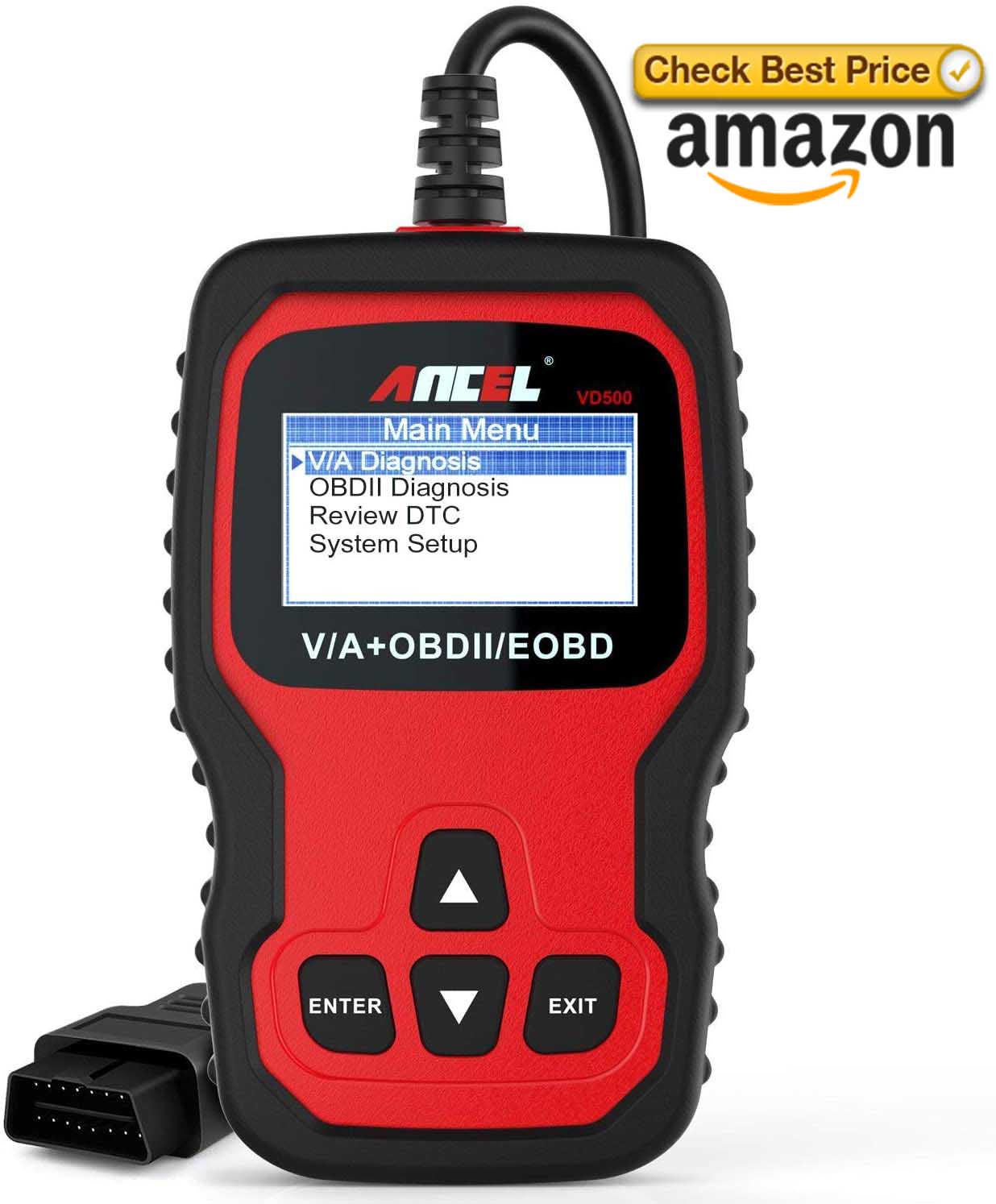 Please Note: Please check your current version in the setting first before updating your unit. If you have SW V6.X HW V1.1 / HW V1.1A version, you should choose V9.XA(English version) when updating the VD500. If you have SW V8.20 HW V1.1 / HW V1.1B version, you should choose V9.XB. We are truly sorry for the inconvenience it caused. If you have any problems while updating the VD500, please send a message through Amazon Buyer-Seller Messaging or send e-mail to us to resolve your issue.
Ancel VD500 Features:
Support English & German
Life-time free update
2.2 inch true-color LCD screen with high definition
Anti-shock and slip material with Cozy handheld feeling
Easy-operating keyboards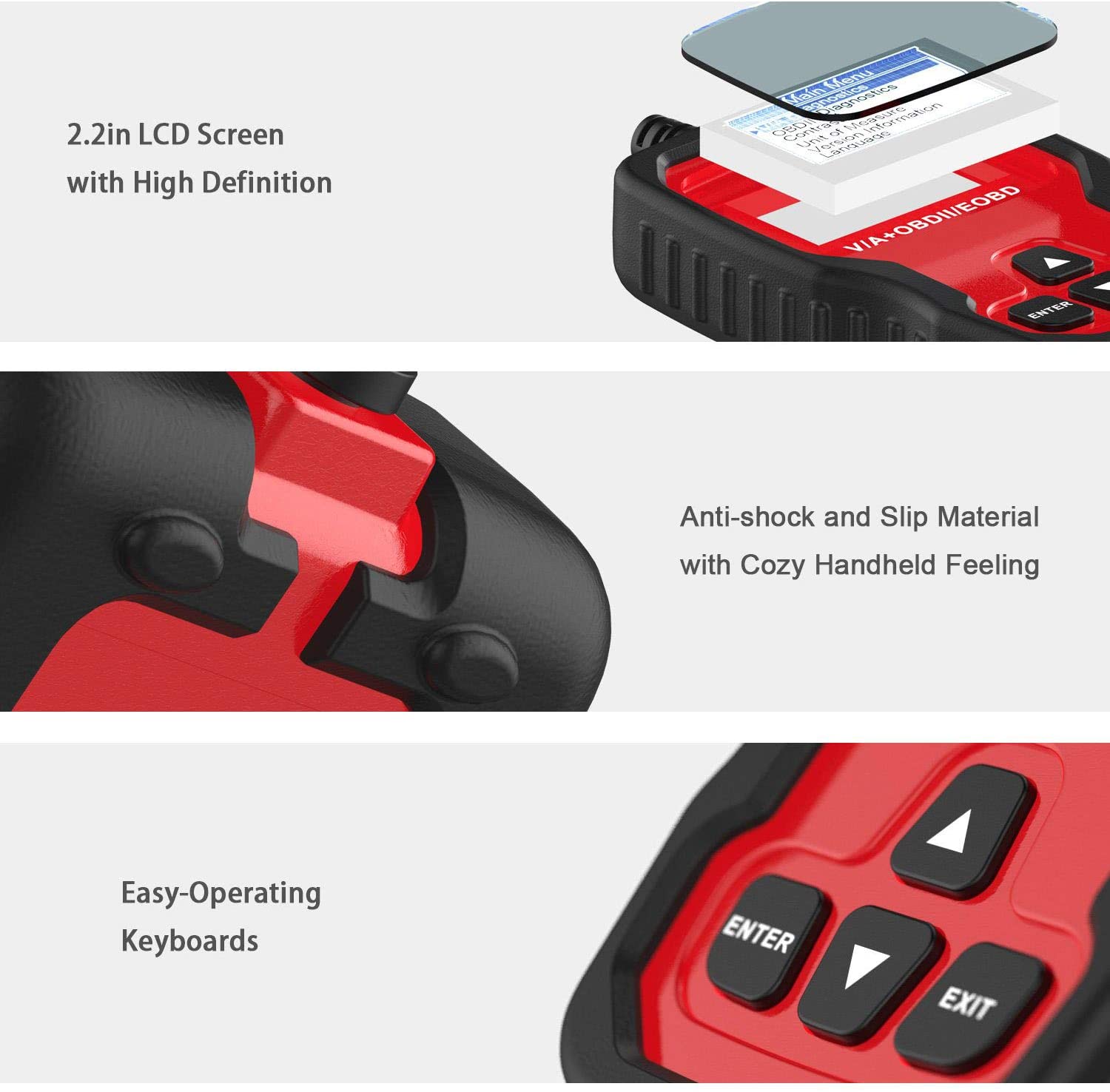 Ancel VD500 Functions:
Read & clear trouble codes
Check Engine Light
Turn off the MIL
Retrieving VIN information
EPB
ABS
SRS
Oil Throttle Position
Adaption Brake Pad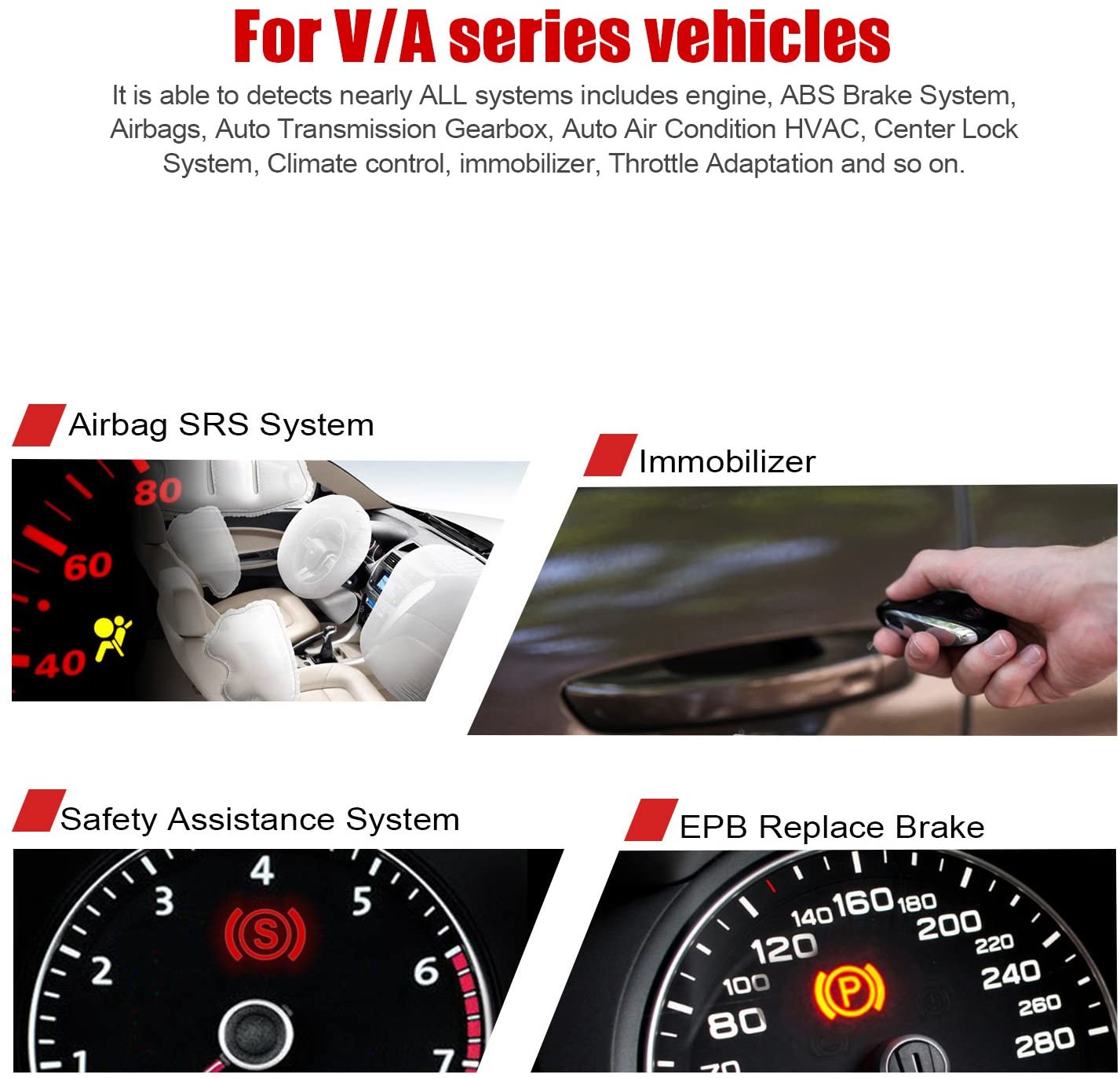 Ancel VD500 can diagnose all systems(for VAG vehicles diagnosis)
Engine System
SRS(Airbag)
TPMS
ABS
Transmission System
SAS
ESP System
Battery System
Immobilizer System
Retrieves VIN Information
For Volkswagen (VAG) vehicles diagnosis, the device can not only read and erase codes on engine, ABS, Transmission, SAS (not all cars), ESP, TPMS and other systems, but also reset the oil, brake pad and throttle position adaption.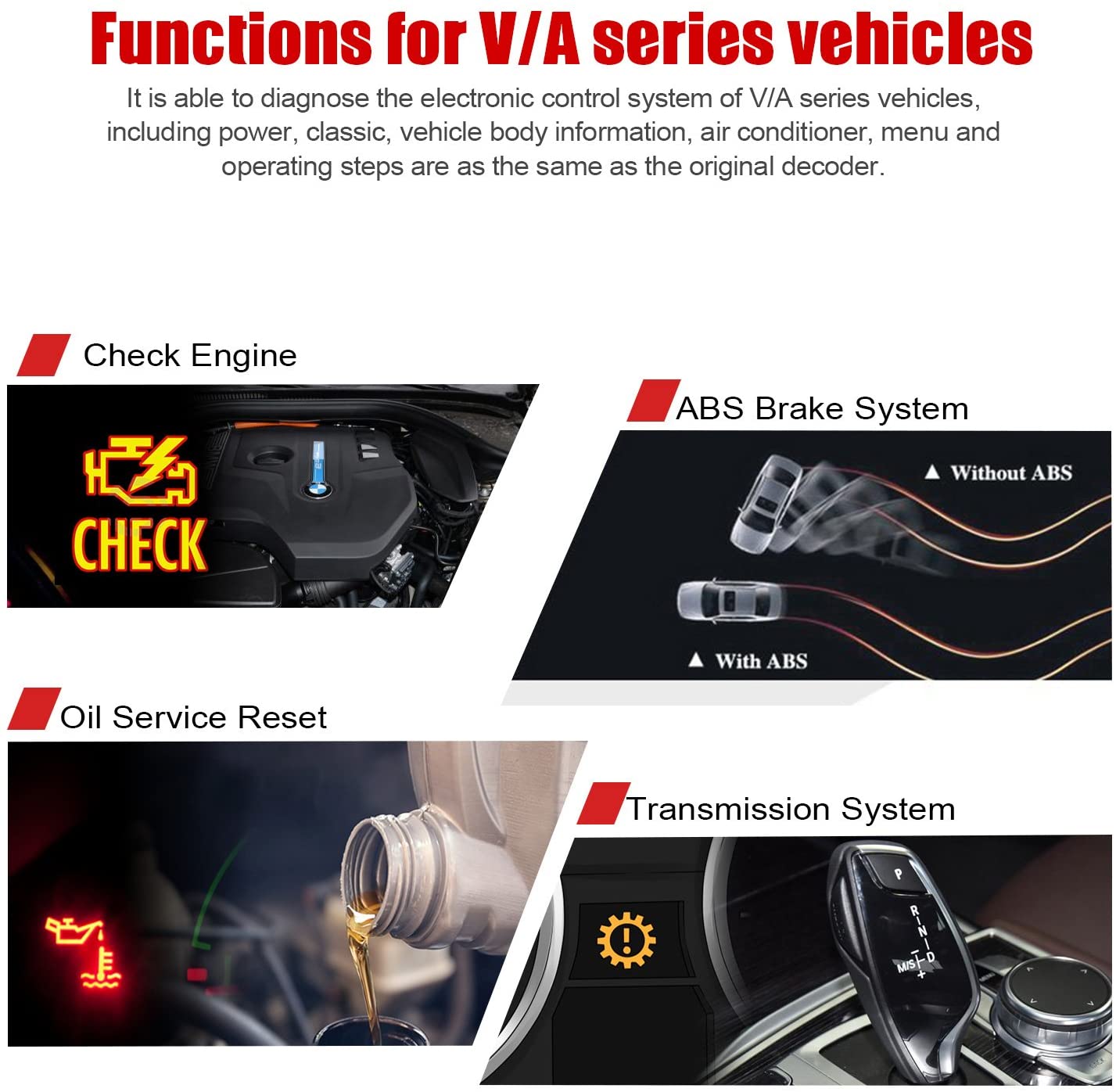 Ancel VD500 Support VW Models:
VD500's diagnostic range for Volkswagen vehicles covers the following vehicles: VW (CC, EOS, Golf, GTI, Jetta, Passat, Phaeton, Polo, Rabbit, Sharan, Tiguan, Touran, Touareg); Audi (A3, A4, A6, A7, A8, A5, Q3, Q5, Q7, R8, RS3, TT, RS, RS5, S4, S6); Skoda (Octavia, Rapid, Yeti, Kodiaq, Fabio, Superb); SEAT (Leon, Ateca, Ibize, Altea, Cushion, Cord, Alhambra) diagnosis.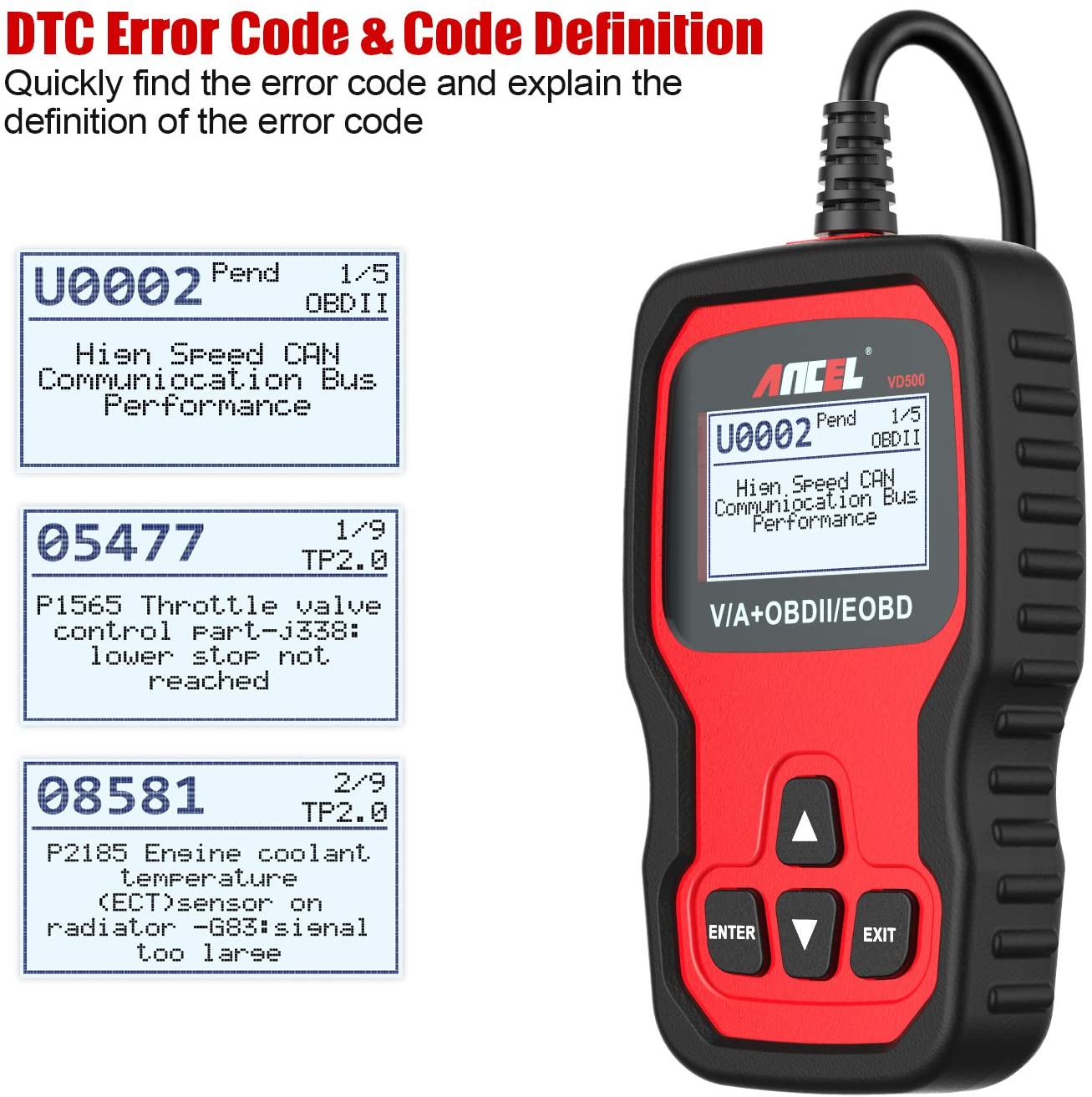 Ancel VD500 FAQs:
Q1:Is Ancel vd500 compatible with honda accord 2005 le? does this scanner read and delete the warning light from the dashboard?
A1:Honda is a Japanese car. You can purchase ANCEL JP700, which is a Japanese diagnostic device. It can read and delete the warning light from your dashboard.
Q2:Will this reset the throttle body on my 1999 Passat?
A2:Yes, this tool should allow you to reset the throttle body, if it doesn't, you will need to take the car in to a Volkswagen repair shop.
Q3:Will these clear srs light, that was unplugged by mistake on 2000 audi tt?
A3:Ancel VD500 cam read and clear fault codes for any 12V VW vehicle with 16PIN OBD2 Port.
Ancel VD500 Customers Reviews:
Review 1:
GREAT PRODUCT FOR 2015 AUDI Q5 REAR BRAKE JOB WITH EPB!!
I'm cheap so first tried to manually retract the Electronic Parking Brake but the torex stripped – I was screwed. Called everyone (pep boys, auto zone, advanced auto) nobody had a UI or any useful advice. Thankfully I had already ordered this from Amazon as plan B and it arrived JIT today with car on jacks. The user manual is poorly written but I followed someone else's post and worked like a charm for my 2015 Audi Q5… off to have fun bedding the new brakes!! Very grateful for that post!! Steps he posted are as follows: "Just plug it in and turn the car key on (but don't start car motor). Selected V/A diagnostics (which stands for Volkswagen/Audi). Make sure parking brake is off. Selected EPB brake pad replacement and hit enter,,,then I heard the EPB motor turn and release brake piston. Changed brakes on both rear wheels. Pumped brakes a couple of times to push brake pistons back to position, then selected finished brake replacement on tool. Heard EPB motors turn and stop in normal position."
Review 2:
Bought this part to replace the rear brakes and rotors for my 2010 VW CC 2.0.
This machine is awesome. I can read and reset codes, release the EPB to replace the brakes and run diagnostics.
10/10 worth it
Review 3:
Easy to use. Plugged it in, turned on the ignition. The scanner menu came up. I chose diagnostics then the choice for the brakes then "other". It gave three choices of replace brakes, retract and release.I needed it to change out the rear disk brake rotors and pads.
If you want more information,please check our Ancel Amazon Shop