ANCEL VD700 Full System & Special Functions for VAG Diagnostics
ANCEL VD700 All System OBD2 Scanner with 8 Special Functions for VAG Vehicles Diagnosis Code Reader Oil TPMS EPB TPS Reset Injector Adaption Steering Angle Learning DPF Scan Tool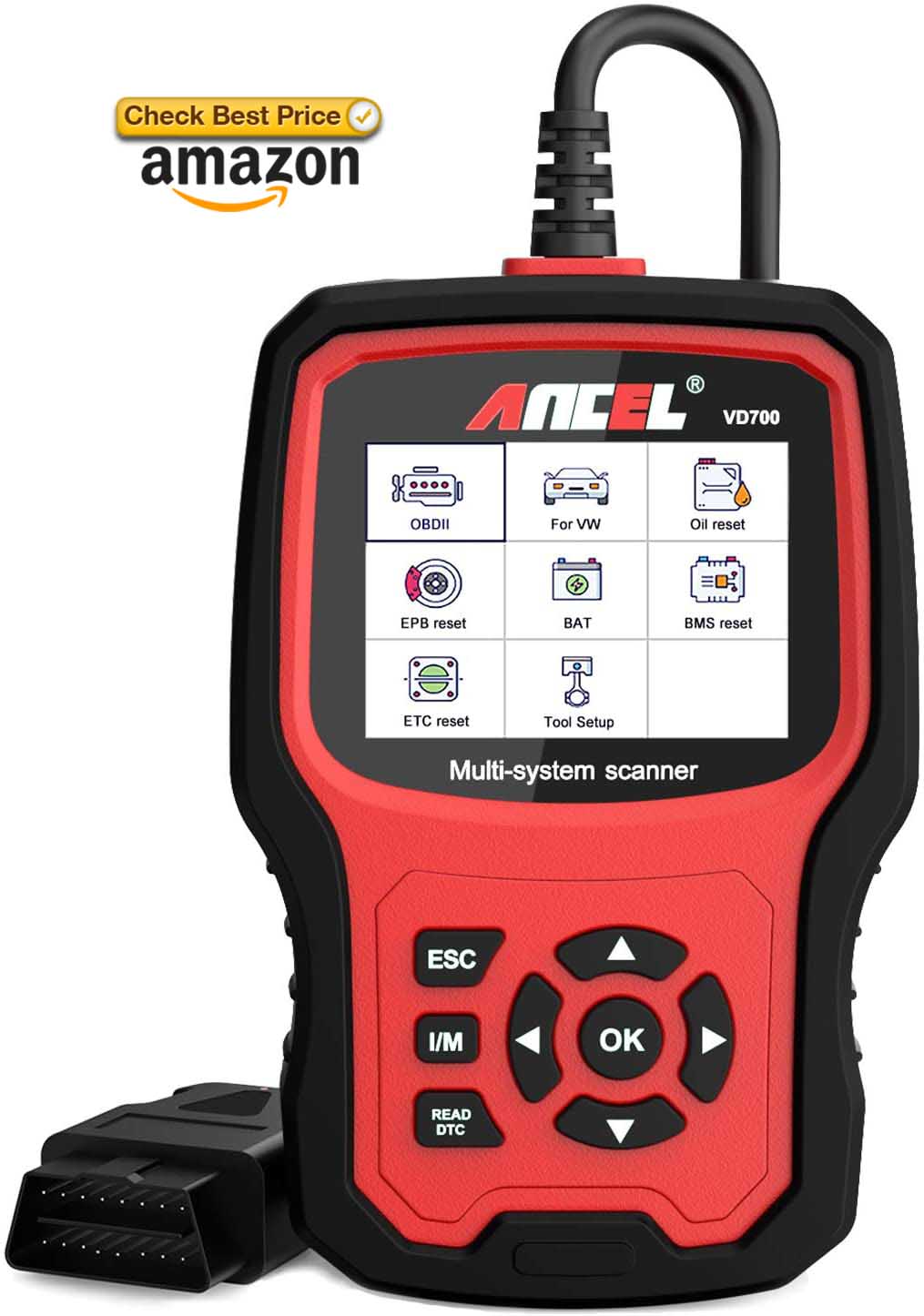 ANCEL VD700 Scanner Features:
Support full system
With 6 OBD modes
Support special functions
Easy to use
Life time free update
2.5 inch colorful screen
ANCEL VD700 Scanner Function List:
Reading/erasing
Showing error code definitions
Turning off the MIL (check engine light)
Reading data stream
Testing EVAP system
Reading I/M
Retrieving VIN information.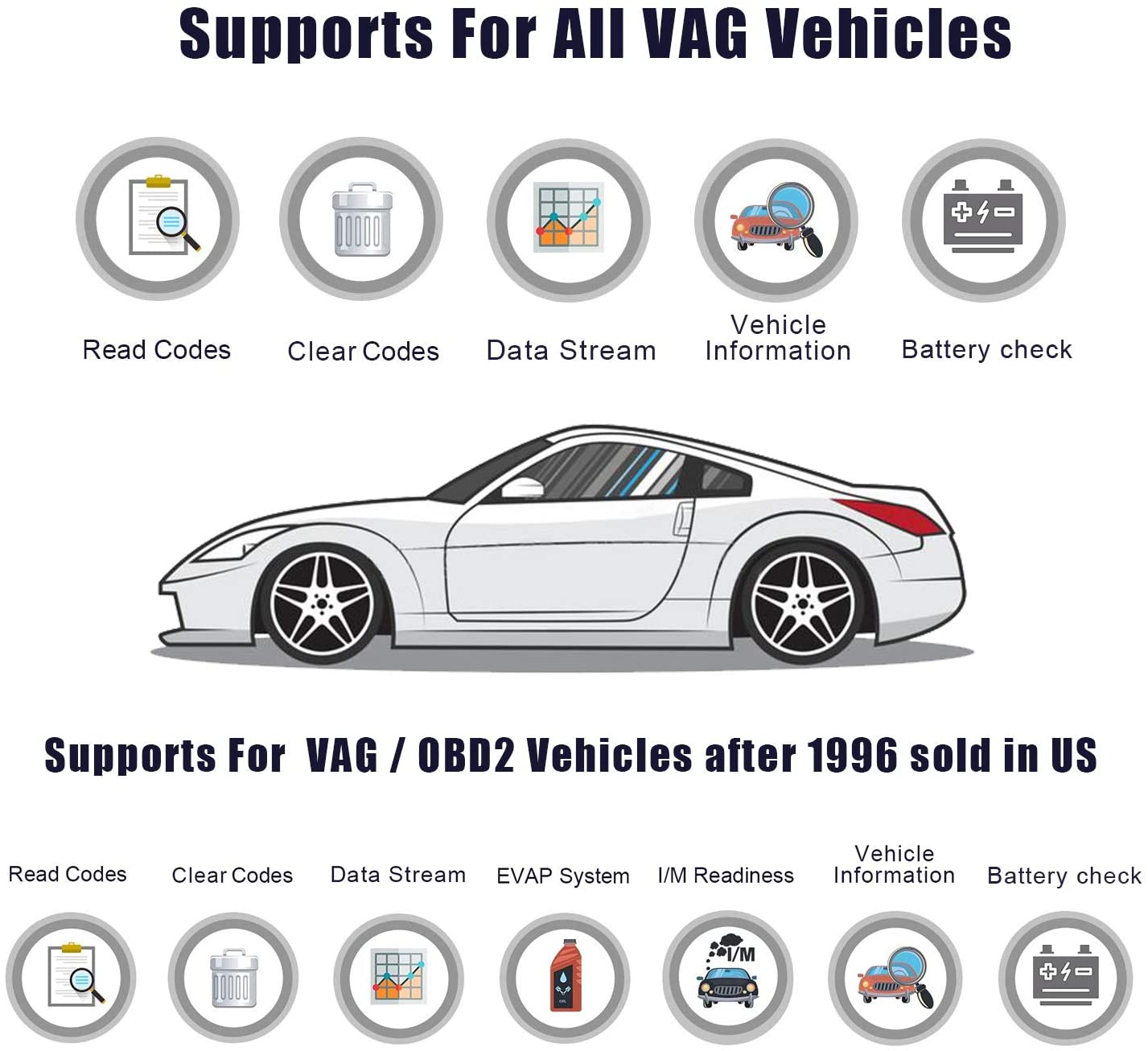 Special Functions:
Throttle position adaption
Brake pad reset
TPMS reset
Steering angle learning
Oil service reset
Injector learning
Battery Registration
DPF reset etc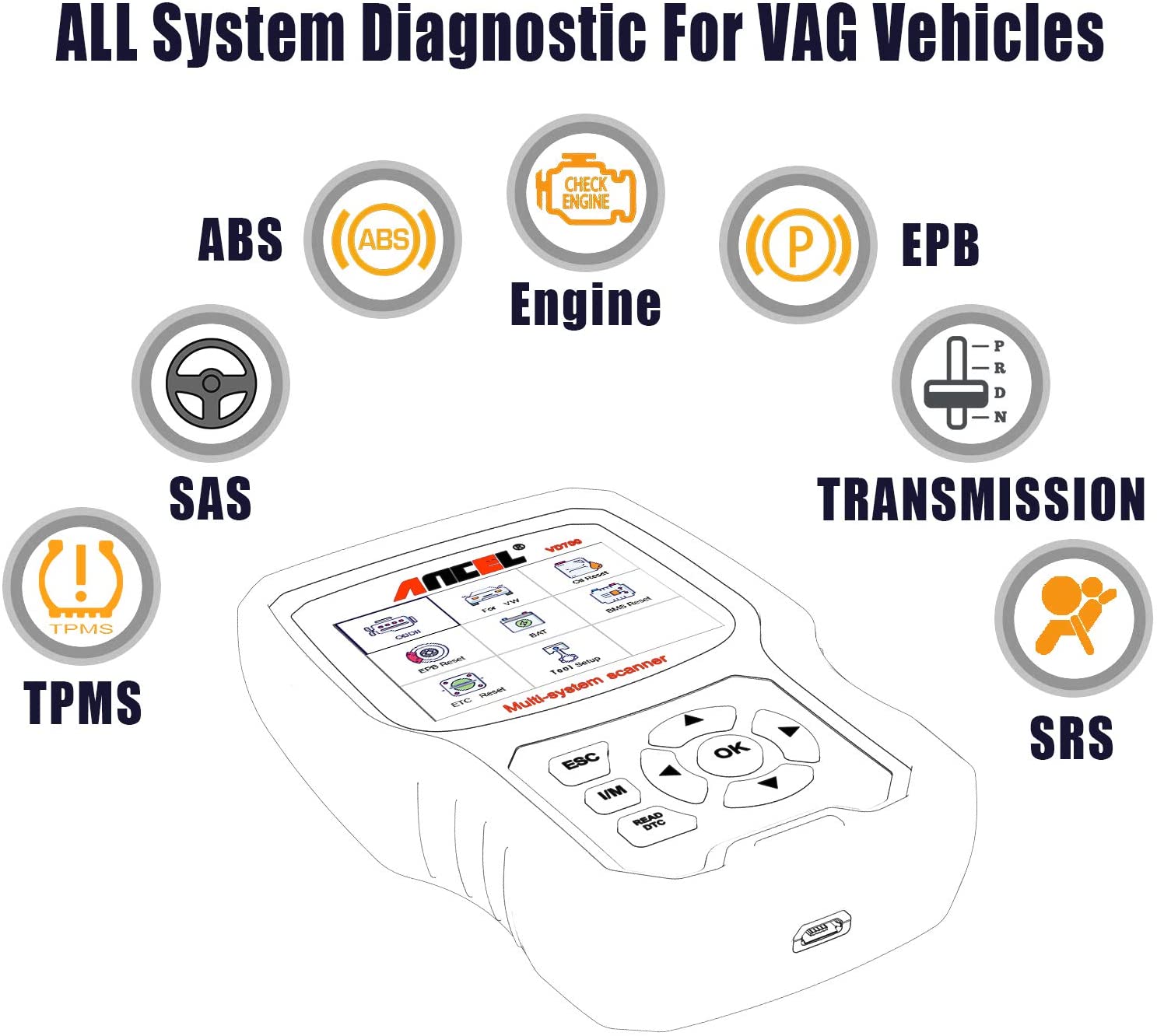 ANCEL VD700 VS ANCEL VD500
The ANCEL VD700 is an upgraded version of the ANCEL VD500 obd2 scanner.
In addition to hardware upgrades, the VD700 can do more high-level reset functions than the VD500(e.g.: TPMS Reset, Steering Angle Sensor Calibration, Battery Registration, Injector Learning, DPF Regeneration etc). Meanwhile, it also have OBD 6 modes for OBDII vehicles(VD500 can only read and clear codes, read vehicle information for OBDII vehicles).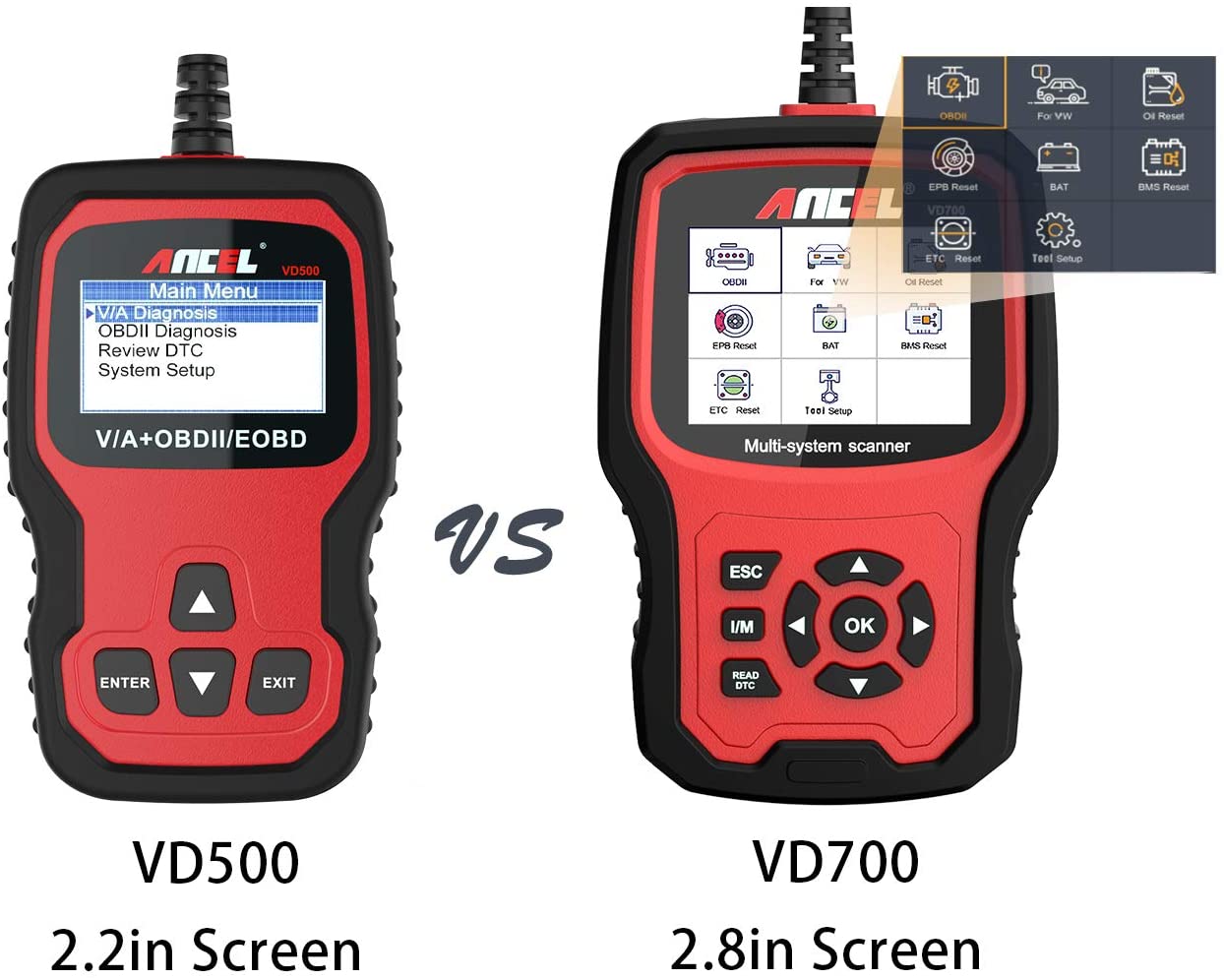 ANCEL VD700 Scanner Support Car List:
It can diagnose all VAG vehicles and it also has the ability to work on 12V cars and light trucks (non-electric) manufactured in 1996 or later that are OBD II-compliant with 16-Pin OBD II protocols (J1850 VPM, J1850PWM, ISO9141, KWP 2000 and CAN).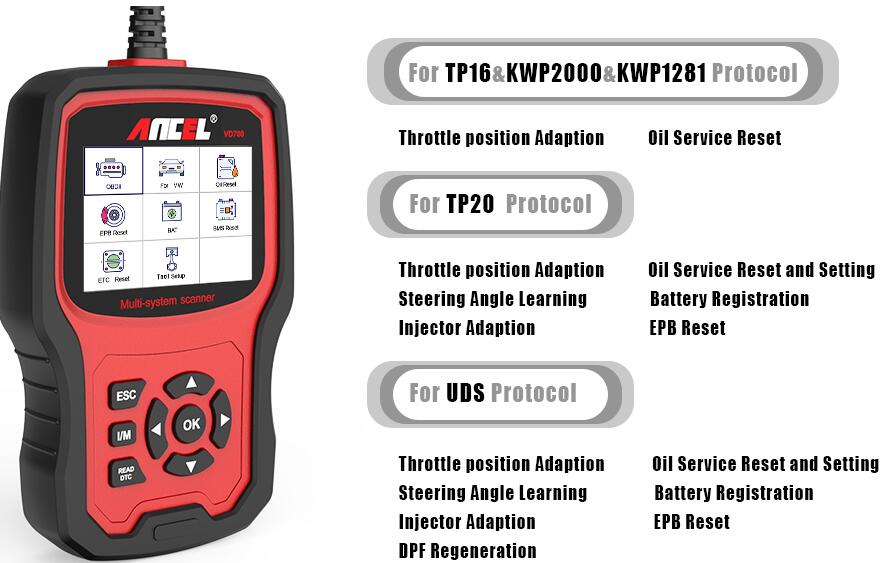 Please note:
VAG vehicles mainly use TP16, KWP2000, KWP1281, TP20, and UDS protocols. Depending on the protocol of your car, the specific reset functions may vary. * Some old protocols require manual operation. Please read the user manual carefully before use.
System scan function can automatically scan vehicle fault systems and display the faults in red.
ANCEL VD700 works on all VAG vehicles, if your VAG vehicle is 4 pin obd DLC, just buy another obd2 to 4 Pin diagnostic adapter connector to diagnose
ANCEL VD700 Scanner FAQs:
Q1:The description says that it can support all VAG vehicles. Why can't my car do all the functions mentioned?
A1:VD700 does support the OBD 6 modes of all VAG vehicles(Volkswagen, Audi, Skoda, Seat, Bentley, Lamborghini, Bugatti, etc) as well as full system diagnostics (depending on the actual number of systems in the vehicle). But the reset function is related to the protocol used by the vehicle.
Q2:Does the test the a/c system for component error?
A2:This VD700 for OBDII is basically for checking and clearing fault codes, it also checks for volts,rpm,temperature, speed,and fuel system components
Q3: Does the vd700 work on 2002 dodge dakota ?
A3:It just supports OBDII menu on 2002 dodge dakota. The VD700 scanner specializes in diagnosing Volkswagen Group vehicles (VW / AUDI / SKODA / SEAT), it only can diagnose engine system for other OBD-II Vehicles.
ANCEL VD700 Scanner Reviews:
Review 1:
Works great, reads every detail and gets the job well done! I am using it for my Jeep as I've been having a few error codes lately, and the Bluetooth reader was not able to help. I finally found the issue and won't be getting charged a crazy amount of money at the mechanic.
I was looking for a power switch but it actually turns on as soon as you plug it in the car.
It has a few more features which I will be using with my friend who is a mechanic when we actually go through the whole car. Works great even for professional use and it's very sturdy with the protective plastic cover.
Review 2:
It worked as expected and managed to remove the maintenance Service Due reminder on my Audi Q5. Audi is so kind to have the reminder set up to where you cannot erase it without taking it to them!!!! But this ODB2 scanner did the trick. We have two other scanners but neither of them would do the trick. This one works. Thanks Ancel, we are happy campers.
Review 3:
It did what it tends to do. I needed to reset my Service due on My 2012 Q7 Prestige. And as easy as scrolling to oil service, hit OK, it communicates to my 4rings right away. 5 seconds and done. No more service due. This is best tool for DIY oil change. Even if you reset through MMI you still need this OBD Scanner to be able to reset your service due.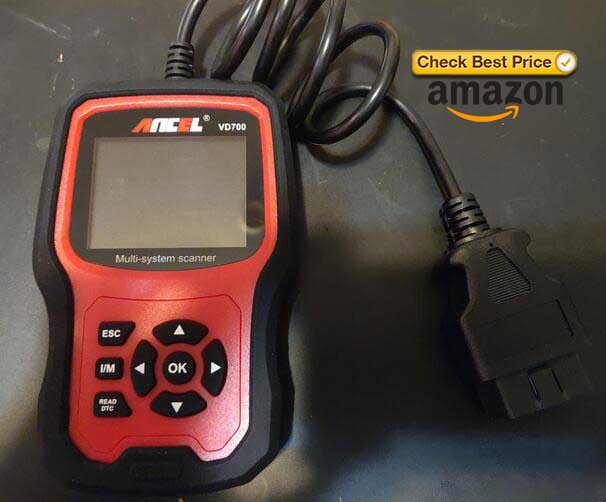 If you want more information,please check our Ancel Amazon Shop