ANCEL AD210 OBD II Car Code Reader Automotive Vehicle OBD2 Scanner Diagnostic Scan Tool.Ancel AD210 code reader is well built with a high brightness LCD display (128 x 32 pixel) that has white backlight and contrast adjustment, indicates test results.
This Ancel AD210 Scanner is collect from customers,hope it helps!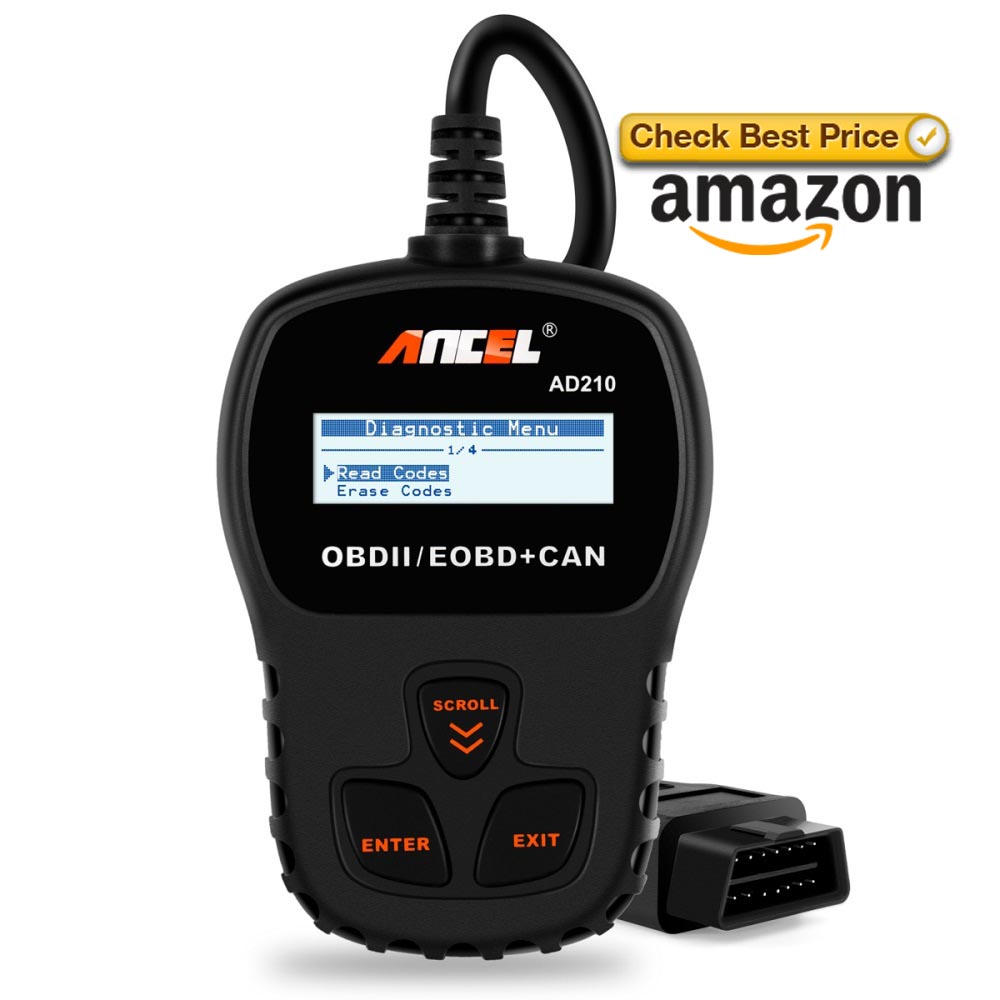 Question 1:Is an Android smartphone required or does this unit display codes & descriptions itself?
Answer 1:It displays it for you
Question 2:Just verifying before i order. does this work with a 2006 bmw 330ci convertible with zxp package
Answer 2:Hi, the major function of this scanner is detecting the Engine System, read and clear the error codes. It should work on your car's engine.
Question 3:Is it Mercedes compatible?
Answer 3:Thanks for the question, hopefully this helps.However I must preface this answer by saying that without knowing the year / model of your Mercedes-Benz (at least, if it is possibly older than 1996) I can't give a complete answer, but at least one bast on general automotive information. I can tell you that since the OBD system is nearly universal used for auto maintenance, it really comes down to: 1) as stated previously, as long as your car is newer than 1996 it uses the OBDII system and 2) how thoroughly you want the scanner to perform tasks. In the case of Mercedes-Benz, I know some codes and diagnostics are only available with specialized equipment at service centers (got to keep the mechanics employed!) but for many general trouble and diagnostic codes, these scanners do save time and money if you are a D.I.Y., mechanically (or can at least follow directions mechanically) inclined individual.
In closing, I confirmed this model includes Mercedes-Benz when it first ask you to confirm your make / model, so yes it is Mercedes-Benz compatible (given it meets the year requirement.)
Question 4:Will this product work on a 2012 Dodge Ram 3500 pickup?
Answer 4:Hi, it should work. We can not 100% guarantee because there may be individual special models may not support. But you do not need to have any concerns,we provide 100% customer satisfaction guarantee,we will provide return and refund if it is not compatible.
Question 5:Is there any way that I could recover an erased code?
Answer 5:Hi, it can not recover an erased code. But our AD310 can stored codes.
Question 6:If i buy 2 more of these do they each get seperate warranty?
Answer 6:If they didn't each have a warranty I wouldn't buy them. The answer is yes I'm sure.
Question 7:would it work on a RHD 1997 toyota camry 2.2l 5sfe
Answer 7:I'm not totally sure but if you look under the dash board where the unit plugs into, just Mach up the plug…it's universal but it depends on the year the car was manufactured.
Question 8:Will this turn off the tire pressure monitoring system?
Answer 8:I'm not sure. I put hi-flo cats on my car, and it cleared the check engine light for only a few days before it came back on again. I used it about twice a week to clear the system and kill the light but it just keeps coming back on. So even if it kills your tpms light, I think once the computer cycles through everything again, it'll just come back on.
Question 9:It says it clears error codes and turns off ck eng light. But elsewhere says it does not clear fault codes. Is there a diff in fault vs error codes?
Answer 9:It will tell you what the fault is and clear check engine light you still have to get the problem fix eventually if it's a sensor or temp problem it will affect the pro Formance and fuel mileage
Question 10:Should the screen turn on before or after the engine is turned on? Because the screen doesnt turn on at all. Is it defected? 2005 chevy silverado
Answer 10:I used it on 08 Ford and other vehicles and it worked great, the screen came up right away. Try it on another vehicle, that should tell you if it is the reader or your vehicle. Make sure your car battery is hooked up and charged and the terminals clean. A stone dead battery could be a possible problem.
Question 11:I have a 2012 mustang gt, pcm is bad, i have a new one, i am told that it needs to be re-flashed to the vehicle, can this scanner do this?
Answer 11:Sorry, friend. ANCEL FX6000 OBD2 scanner cannot do this
Question 12:Does this read more than check engine codes? For instance, will it tell me diagnostics for the Brake and ABS lights as well?
Answer 12:In searching through the many codes found in the booklet that came with my code reader, I could find nothing about the brake lights or ABS system.
Question 13:will this work on my 2000 ford Taurus se?
Answer 13:It is supposed to work on Ford products, but I do not have a Ford. I do know it will not work an a chrysler PT cruiser because they have the codes built into the car computer that you get with the car key.
Question 14:will this work for 2005 Mazda Tribute s V6?
Answer 14:Currently, all make / model cars manufactured after 1996 are OBD II compliant (even a few from 1995 snuck in early.) Based on pictures and information about your vehicle (2005 Mazda Tribute w/ V6), the answer is yes. The 16pin port should be just under the steering column of your vehicle either just to the left or the right of your knee area. (These ports are usually black but visible and open for easy connection.)
Question 15:Difference between this and the AD310?
Answer 15:Hi, their main function is the same: detecting engine system, read and clear the error codes. The difference between them is the AD310 will have more functions, such as: Reads live data stream;
View freeze frame data.
Question 16:I have 2000 suzuki vitara jxl and a 2000 suzuki grand vitara, will this scanner work on both my veh? i see plug, not sure manufactures spec.
Answer 16:Hi, it should work. We can not 100% guarantee because there may be individual special models may not support. But you do not need to have any concerns,we provide 100% customer satisfaction guarantee,we will provide return and refund if it is not compatible.
Question 17:Does this work with a 2004 Kia Sedona?
Answer 17:Helpful starting tip: All cars manufactured (U.S.) from 1996 (and some 95 late models snuck / sneaked if your from UK, in too) have a standard OBDII port, installed in the general area under the dash of the drivers side (anywhere from above the knees under the steering column, or to the side of either knee; generally with the fuse panel or mounted just below the center console on the right knee side.)
Yes, this product will work with your 2004 Kia Sedona, simply make sure you plug it in correctly (easy since its specific trapezoid shape only goes one way.) and only turn your key to the "on" position, not ignition position.
It will not only give you general codes associated to an "engine light on" scenario, but will also have a listing of model specific codes (if this applies to your vehicle) plus a brief definition of what that code means for easier D.I.Y. maintenance (or, at the very least, not get too screwed by a mechanic over-charging if you're not too mechanically inclined.) You can also clear those codes so as to not have the check engine light blaring at you from the dash (though recommended not to leave it unresolved for too long.. what can start as a minor sensor replacement can turn into a lot worse if left unchecked.)
Hope this helps.
For more question or want to ask service for Ancel AD210,please visit our Ancel Amazon Shop