Ancel AD410 OBD2 Vehicle Code Reader Scanner
Ancel AD410 Description:
ANCEL AD410 is a great upgrade from the more basic car code reader, read and erase codes when the check engine light comes on. It shows real-time live data reported by the ECU, engine temperature, O2 sensor readings etc. Even a beginner can use this unit to find out what the problem is, saves the trips to mechanic.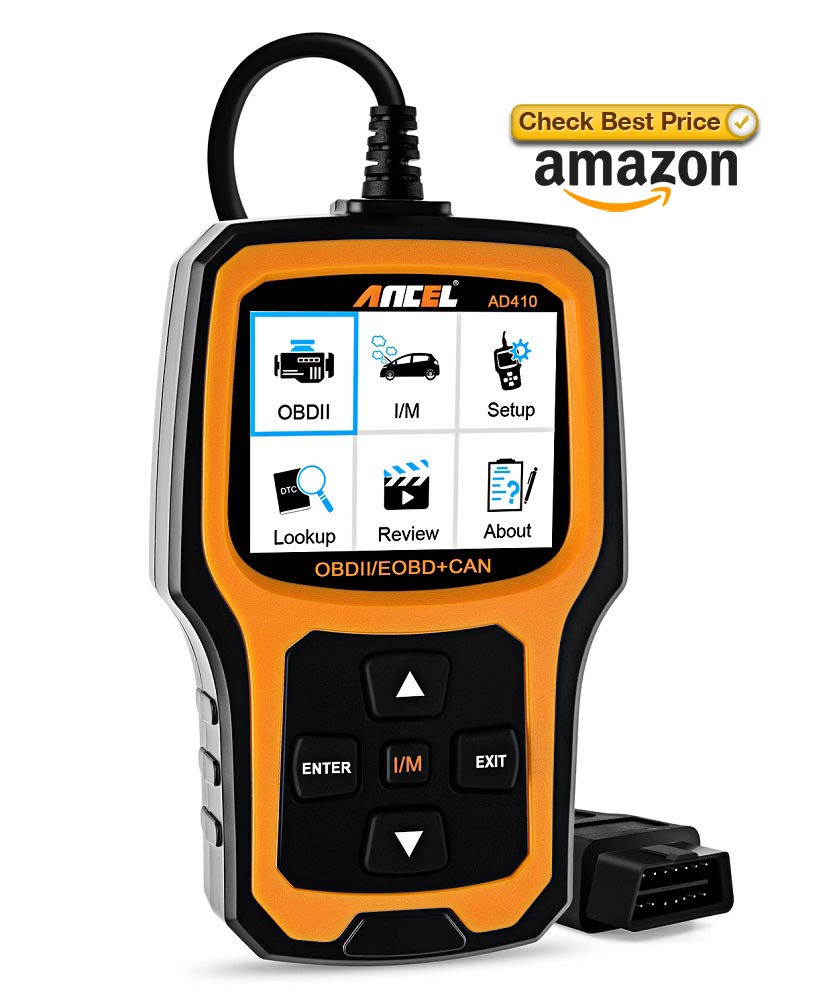 Ancel AD410 Features:
Reads and clear check engine light codes, both generic and manufacturer specific codes, resets monitor
Built-in DTC lookup library for manual retrieval and shows code definition
I/M Readiness to test misfire, Fuel system and Comprehensive component
Displays all data stream items or select a certain item of live data with a graph
Views freeze frame data, show vehicle parameters recorded by ECU when an emission-related fault occurs
O2 sensor test allows retrieval and viewing of O2 sensor monitor test results for the most performed tests from the vehicle's on-board computer
Read and display vin numbers,calibration ID(Cal ID) numbers,calibration verification(CVN) number
On-board monitor test can be utilized to read the results of on-board diagnostic monitoring
EVAP system test lets you initiate a leak test for the vehicle's EVAP system
Vehicle info will display VIN (Vehicle Identification Number), CID (Calibration ID) and CVN (Calibration Verification Number)
Multilingual menu and DTC definition:English,Frensh,German,Spanish and more.
Prints diagnostic reports via computer
Software update via internet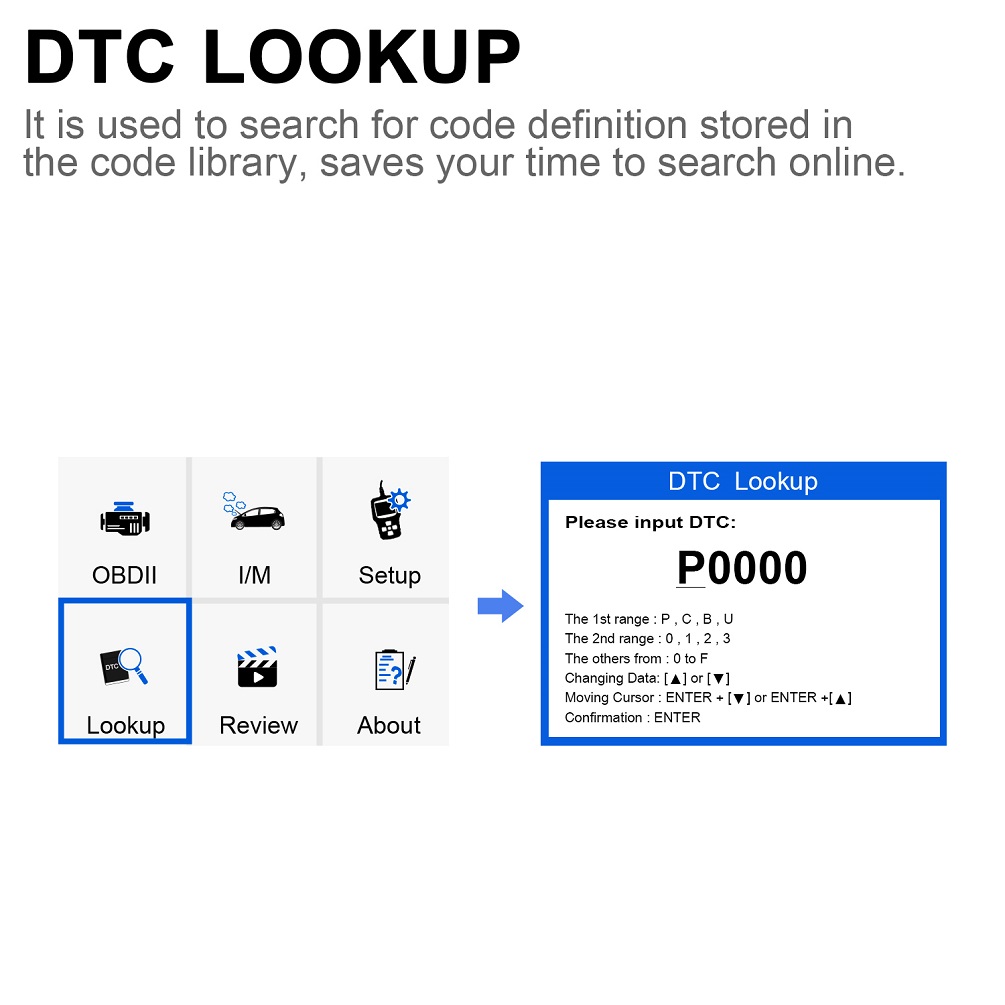 Ancel AD410 Functions List:
On-Screen code definitions
Live Data
I/M Readiness
Freeze Frame Data
Read VIN number
Display live O2 sensor test data,Evap system test.
DTCs data record and playback
Ancel AD410 Support Vehicle Models:
Work on all after 1996 and newer vehicles (OBDII & EOBD)
Ancel AD410 Support Protocols:
KWP2000, ISO9141, J1850 VPW, J1850 PWM and CAN
How to Start With Ancel AD410?
The OBD2 port is often under the dash, or under a panel below the handbrake in the centre console. Simply plug into your OBD II port on your car and turn your ignition on and you ready to go.
Why I can't erase the fault code?
The fault causing the fault code to show will need to be repaired first then code can be erased
Note: Not all vehicles support reading of all sensors. Readings supported depend on what's installed on the OBDII system by the manufacturer, newer vehicles will have more readings.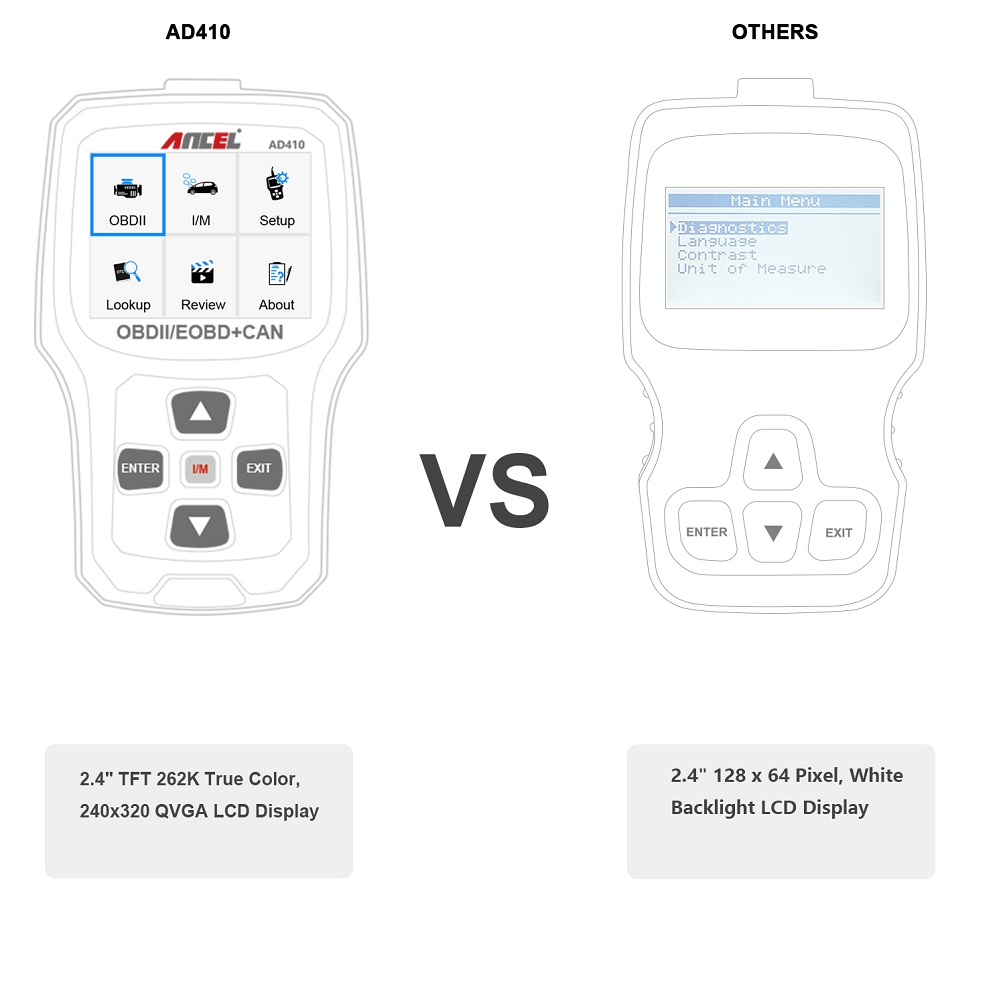 Ancel AD410 Update:
This unit provides life-time FREE software update to fix the latest bugs or add newly parameters. Just download the software from ANCEL webstie, then follow on-screen instructions to go.
Ancel AD410 FAQs:
Q1:Can you see transmission, abs, and srs live data with this scanner?
A1:Main function of this scanner is detecting engine system, read and clear error codes. It can read live data, but it can not read transmission, abs, and srs. Any questions can contact us.
Q2:Will this display maf values, engine rpm, and o2 sensor values?
A2:Hi, it will reads. Any questions can contact us. Thanks.
Q3:Which asian vehicles are compatible with this scanner
A3:This will work very well with all cars that are OBD2 compliant. For the price this is a fantastic unit and would recommend. this is base on being a retired ASE Master Mechanic.
More FAQs,please check:Ancel AD410 FAQs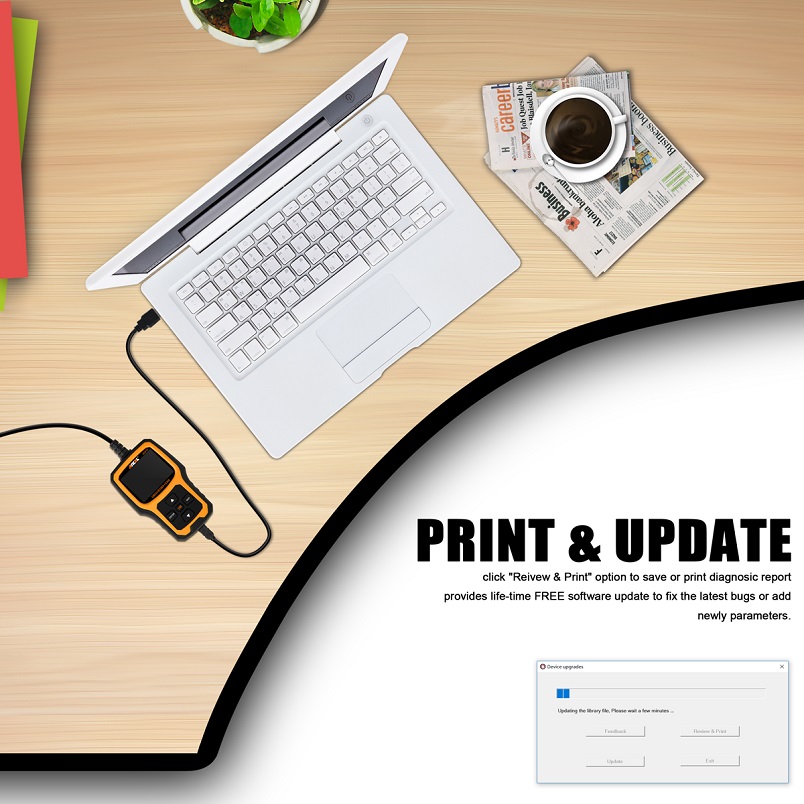 Ancel AD410 Customer Reviews:
By Amazon T.Wyatt December 21,2017
I bought a used car with cash for little to nothing. Took it to a mechanic who was surprised at how good of shape the vehicle was in for such little money. That made two of us. About a week and 150 miles later, the "service engine soon" light came on. I though, "****, that was too good to be true. But instead of taking it to a mechanic, I decided to purchase this little doohickey. Hook it up, ran the OBDII scan, and WHALA!!!!, code P0440. Don't need to tell you how valuable YouTube is. Went to the auto parts store, purchased an OEM gas cap…problem solved. Now, image if I had gone to a shop. Better yet, image if YOU had gone to a shop. The Ancel AD410 paid for itself 400x over.
I like the easy to read screen and the simple layout. And even though I find value in the AD410, I will probably go with a more intuitive OBD II scanner next time. The AD410 lacks in telling a layperson in-depth information they may need to pinpoint problems. The codes can be very vague. I would like a more in depth description of say, P0440, without having to google it. But for a mechanic, or even someone very car savvy, AD410 is a gem. Low cost – accurate information – live data stream, it's pretty awesome. You get more than what you pay for. I only took off 1 star. Because for a monitor with a screen that large and bright, you can say more than "EVAC" for a P0440 code.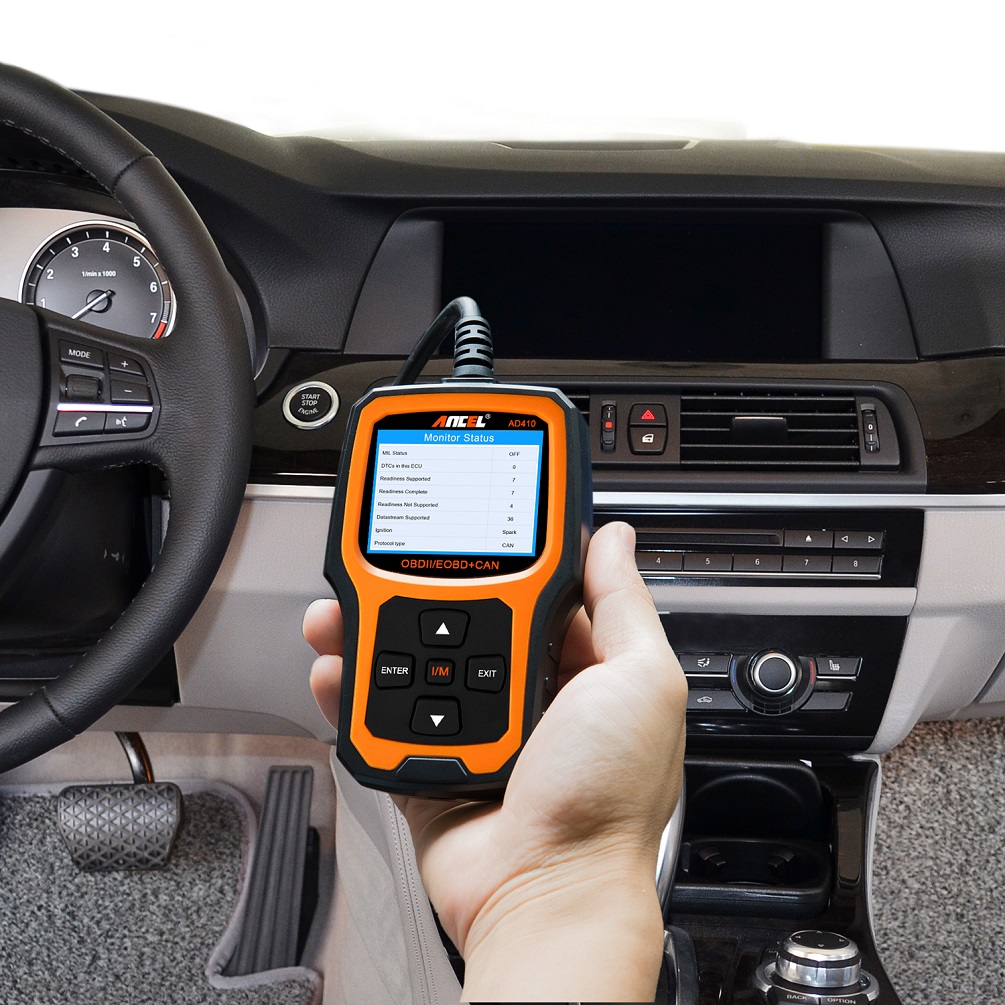 Ancel AD410 Package List:
1 x AD410 Scan Tool
1 x User's Manual
1 x USB Cable
For more information,please check Ancel AD410 on our Amazon Shop.