ANCEL AD410 Enhanced OBD II Vehicle Code Reader Automotive OBD2 Scanner Auto Check Engine Light Scan Tool. AD410 code reader is a great upgrade from the more basic diagnostic scan tool. It has a 2.4″ TFT true color (262K) LCD display which indicates test results more clearly.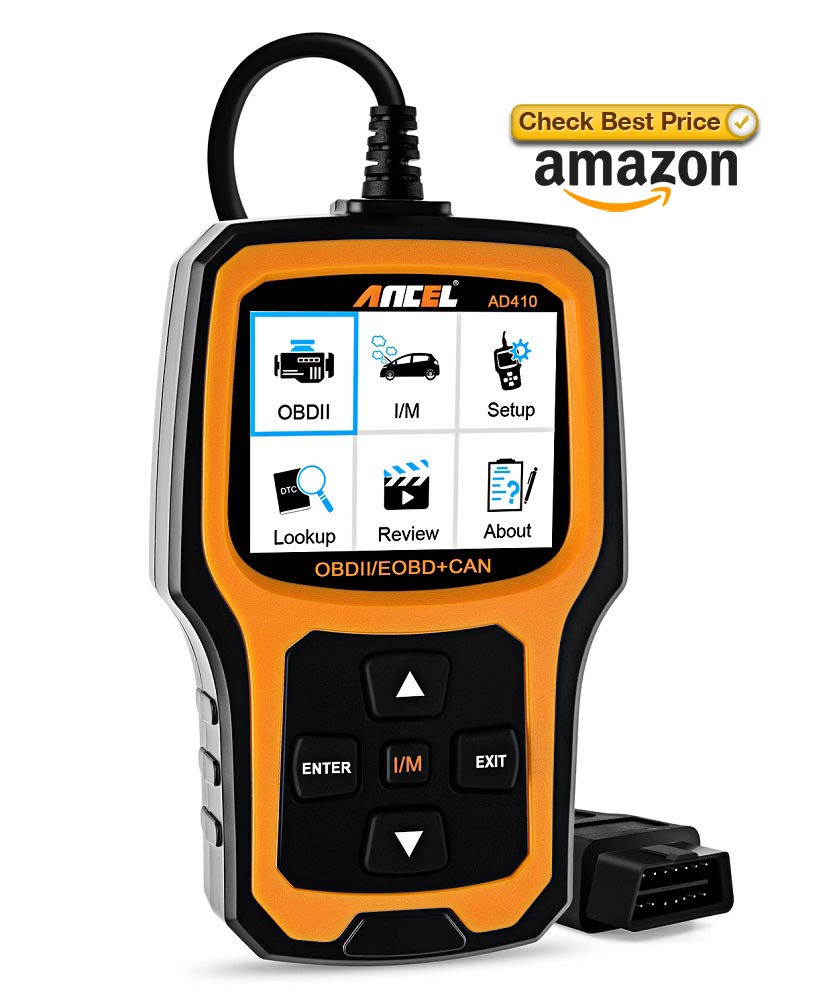 Here collect buyer frequency Ask Question when they buying Ancle AD410 scanner.
Ancel AD410 FAQs:
Q1:Will this display maf values, engine rpm, and o2 sensor values?
A1:I know it will read O2 sensor values but I'm not sure on the other 2 you list. I haven't had to use the one I purchased yet. Here's a link to Ancel and the email address for their support:
http://www.anceldirect.com/products/2017/20170620/n20170620151241.html
E-mail: support@anceldirect.com
Q2: Which asian vehicles are compatible with this scanner
A2: Is Onda Accord 1998 EX V6 compatible?
Q3:Hello, can you see transmission, abs, and srs live data with this scanner?
A3:Hi, the major function of this scanner is detecting engine system, read and clear error codes. It can read live data, but it can not read transmission, abs, and srs.
Q4: Do you have to pay for software updates if/when you purchase a newer vehicle?
A4: Hello, you do not have to pay for software updates. It supports Lifetime Free Upgrade Online.
Q5:Will the update program work via windows xp desktop?
A5:I purchased this for use on my '97 Ranger. It would not read it. It says it works on '96 and newer. I returned it to Amazon. As for windows versions, I don't know but it should work on XP.
Q6:Work on 2004 toyota sienna?
A6:Can't say, it should but not certain. It worked fine on my Mercedes
Q7:Why won't this unit turn on? I just bought and recieved mine and it doesn't seem to function at all.
A7:You need to have the vehicle running in at least accessory mode (i.e. turn the key). It does not have it's own power source and draws it from the vehicle
Q8:Will this work on a 1997 dodge cummins
A8: Yes it will work because 1997 is obd 2
A9:Will this work on a 2012 Hyundai Elantra
Q9: It should work for anything past 2000, it works for my 2013 chevy
Q10:Does the tool provide the problem of the code?
A10:It reads the code. Tells you what the code means; such as multiple cylinder misfire. But does not tell you what is causing the problem
Q11:Will this work with a 2008 Ford F-250 with the 6.4 diesel ?
A11:Hi, it will work on your 2008 Ford F-250.
Q12:Will this work with a 2002 f250 diesel? will it also read abs codes?
A12:Hi, the major function of this scanner is detecting the engine system, read and clear error codes. It can not read abs codes.
Q13:What vehicles are compatible with this tool also which phones
A13:Hi, it is an OBDII scanner, so it should work if your car support OBDII protocol (16 pin port). The OBDII protocol was implemented in the United States in 1996, but does not guarantee all cars.
Q14:I recently purchased this reader came packaged in just bubble wrap with no manual. Is there a manual or website that shows what all the functions are?
A14:There is an electronic manual on the code reader in the menu options you should be able to see it
Q15:Will this unit reset the airbag code in my 2004 minicoopet S?
A15:Don't know for sure , but I feel good that it will ! You can always take it to the dealer if you don't Want to spend the little money it cost ! You can always use it on other problems
Q16:Where would i plug it into on my 2004 jaguar xj?
A16:I can't say for sure, but most likely on the driver's side under the dash. Mine (Audi) happens to be on the left near the door by the hood release. I have seen others on the right near the center console.
And for more details of Ancel AD410 FAQs,please check our shop on Ancel AD410 Amazon.