Below Ancel AD310 Customers FAQs was collected from amazon,if you want to get more detail information about your,please visit our Ancel AD310 Amazon.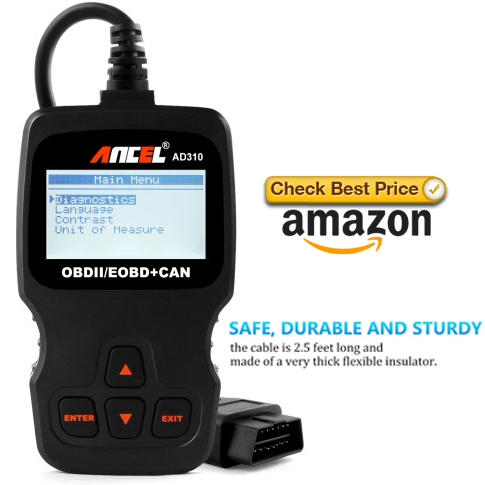 Question 1: Will it diagnose abs system?
Answer 1: Hi, the major function of this AD310 scanner is detecting the Engine System, read and clear the error codes. Sorry, it can not diagnose ABS system.
Question 2: What kind of Live data does it stream? Transmission fluid temperature?
Answer 2: The AD310 scanner lets you view real-time "Live Data", this information includes value (volts, rpm, temperature, speed etc.) and system status information (open loop, closed loop, fuel system status, etc.) which were generated by the various vehicle sensors, switches and actuators.
Question 3:Does this just give you the code or give you the code and the details of it?
Answer 3:Code and details really helpful
Question 4:Will this cover abs air bag and
Answer 4:Hi, sorry, the major function of this scanner is detecting the engine system, read and clear error codes. It not cover abs and air bag. Any questions can contact us.
Question 5:Can it relearn a auto after instulling a distrubetor in a 98 silverado
Answer 5:This is a good question. I hope someone answers. I have to relearn a camshaft position sensor on a 11 equinox.
Question 6:Can you change language to spanish
Answer 6:I'm pretty sure you can
Question 7:Can it reset speedometer after installing larger tires
Answer 7:This diagnostic machine portable is pretty straight forward……it is for engine diagnostic and not for complicated stuff…. for bigger jobs you will need a bigger and more complicated one.
Question 8:Will it work on Nissan and Honda
Answer 8:Yep, unless they're some of the really old ones from before OBD became a standard
Questions 9:How do I update this? Says no codes stored on module; yet in the initial screen it shows "1" code as a result of the check engine light on. So..?
Answer 9:Hi, this product does not need to be updated. Please refer to the final read results, the previously displayed may be an invalid DTC.
Question 10:Can this obd read and clear p0847 code.? Or any transmission related issue have a 2010 honda civic dealer want to charge me 60$ just to scan
Answer 10:Hi , I have used this to clear transmission codes for a 2003 gmc envoy with a fully computerized transmission,you can call them or do a youtube or just search,thanks for your question good luck.
Questiono 11:If the issue isn't fixed and I erase the code anyways, will the code come back on? I need to know if what I fixed was the actual issue.
Answer 11:If the issue isn't fixed then it can trigger the code again. But realize that some problems may not constantly be a problem and could take a specific condition such as a particular RPM, temp, fuel pressure, etc. Because of this, it may not trigger the code right away.
Question 12:Does this tool reset adaptations?
Answer 12:Hi, the major function of this scanner is detecting the Engine System, read and clear the error codes.
Question 13:Will it reset the airbag light on my 2006 bmw x5 (e53)?
Answer 13:The major function of this scanner is detecting the Engine System, read and clear the error codes. It should work for your car's engine. But it can not reset the airbag light.
Queston 14:Car dont start. Would it still scan problem
Answer 14:Yes. As long as you can turn the key to the on position
Queston 15:Can this scanner clear the srs code on a 2002 volvo v70?
Answer 15:Probably not. The srs is the supplemental restraint system. This is for airbag and seat belt issues. If this light is on, you should have it checked. However, first go under the seats and wiggle and push in those seat belt connectors. Also, there is a tool that may work, the iCarsoft i906, especially made for Volvo and Saab. about $120.00
Detail information about you problem please visit our Ancel AD310 Amazon Shop to contact us.