Ancel E-Power 100 Car Jump Starter
Ancel E-Power100 Descriptions:
Compact, yet powerful lithium vehicle jump starter rated at 500 amps, up to 30 jump starts on a single charge. Safely jump start a dead battery in seconds.
Designed for gas engines up to 5 liters and diesel engines up to 3 liters for vehicles, boats, motorcycle, lawn mowers and more. And recharged as a power bank on your personal devices like smart-phones, cameras, tablets, PSP etc as well.
An ultra-bright 200 lumen LED flashlight with 3 light modes, including constant lighting, SOS and emergency strobe, can last for 30 hours.
Eight safety device installed to ensure safe operation. It's equipped with an intelligent jumper cable, not only direct shows the current and voltage change but provides short circuit protection, overcharge protection, over-discharge protection, over current protection, overheat protection, reverse polarity protection, reverse charge protection and over-voltage protection compared to its competitors.
Exclusive Emergency jump start button. When your car battery is in low, dead or no battery condition, press the intelligent jumper cable's "BOOST" button and await JUMP START READY is on, and then crank the engine within 30s.
Ancel E-Power100 Advantages:
1.Short-Circuit Protection:Prevent short-circuit occurring while two clamps are connected
2.Over-charge protection:Effictively Prevent over-change of the battery in the jump starter
3.Over-discharge protection:Effectively Prevent over-discharge of the battery in the jump starter
4.Over-current protection:Protect when the discharge current is too strong
5.Over-temperature Protection:Automatically shop working when the temperature is getting too high
6.Reverse Polarity Protection:No damage happened while the clamps are connected in wrong terminals
7.Reverse-charge Protection:No reverse charging back to Carku unit after the vehicle started
8.Over-voltage protection:Prevent there is big voltage difference between each cell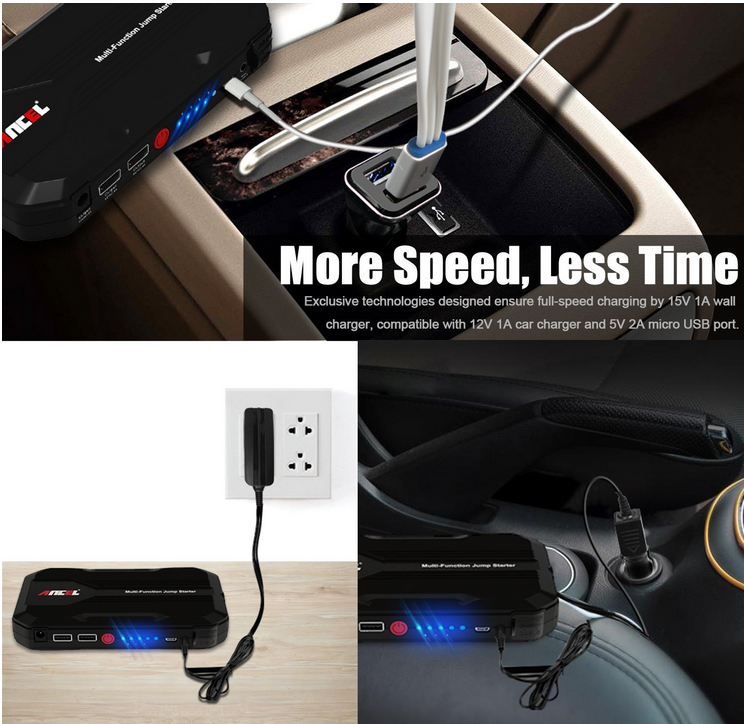 Ancel E-Power 100 Reviews:
These jump starter are a life saver when you need it. This unit is different than other units on the market. One thing you will notice is all the extra safety features built into the intelligent jumper cable. It has built in short circuit protection, over charge protection, over current protection, reverse polarity protection, and reverse charge protection. All these features allow for a safe and fool proof use of this device even if you are to connect this incorrectly to your vehicle. Just connect the jumper cable to the portable jump starter unit, and then connect positive clamp to positive terminal, and negative clamp to negative terminal of your car battery. Then get in you car and start it up. Once started, disconnect the unit. That simple.
The intelligent jumper cable also has a very useful LCD display which provides information such as vehicle battery voltage, peak current, etc. The jump starter battery pack itself has a nice solid feel to it and comes with 2 X USB charging ports at 2.4A. Next to the USB charge ports, there is a 12V 10A output port which you can connect to various 12V devices.There is a flashlight on the end to help illuminate your work area. You can see the charge level of the internal battery with the 5 LED indicator on the side. I recommend you give it a full charge when you first get it, then you can place it in your vehicle so it's ready when you need it. The charge will hold for at least 8-9 months, and it may only drop about 10%. It's really that portable and handy to have.
The unit comes with both an AC and DC (car) charger. You can also charge the unit via the Micro USB 5V 1A input port. So if you have a high current phone charger with a micro USB connector, this is another way of charging this device in case you don't have the other charge cables with you. Car batteries don't last forever, usually good for about 4-5 years. So keep one of these in your car, and you don't have to worry about being stranded on the side of the road. Also no need to carry those heavy jumper cables anymore.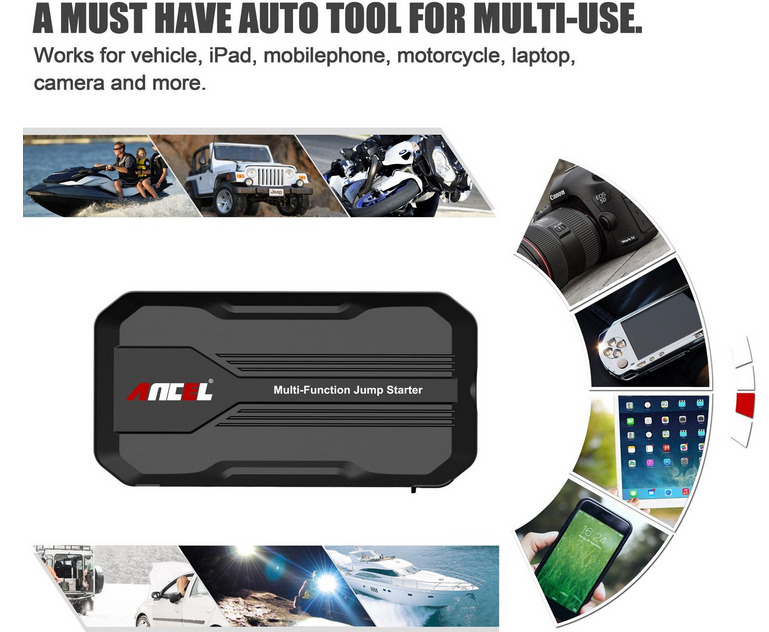 Ancel E-Power100 Package List:
1 x Premium Storage Bag
1 x E-POWER 100 Jump Starter
1 x Intelligent Jumper Cable
1 x Wall Charger
1 x Car Charger
1 x All In One Charging Cable
1 x User's Manual
If you want more details about Ancel E-Power 100,please check it and ask our service on Ancel Amazon Shop